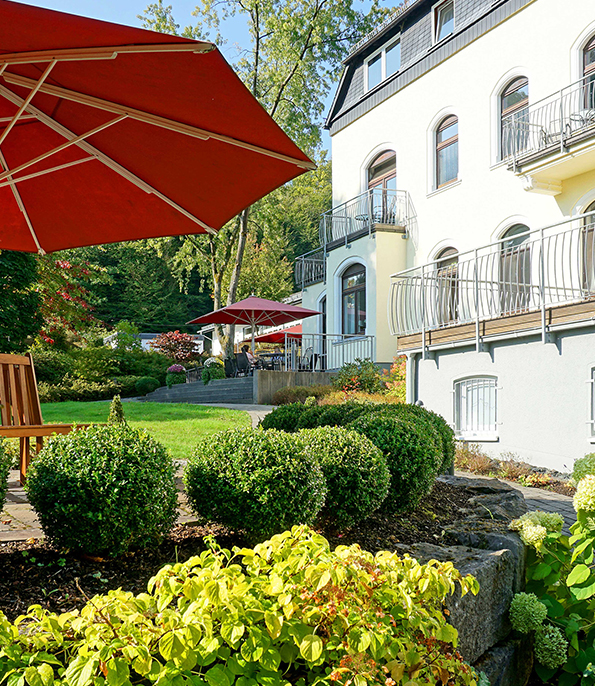 Your Dorint Hotel Dorint Parkhotel Siegen
The lively university town has much more to offer than the Rothaar Mountains and the Langenbach Valley. That is why we would like to take you on a journey through the wonderful city of Siegen and introduce you to its unique Siegerland charm.
Number of rooms: 85
Main restaurant
Patmosweg 60, 57078 Siegen
Telephone: +49 271 770 096-0
Fax: +49 271 770096-105
Email: info(at)siegen.dorint.com
Reservation center Dorint Parkhotel Siegen:
Reserve now!
City centre
6,6 km
Station
4,4 km
Airport
90,4 km
Relaxation in the sauna
Unique event rooms with festival hall & chapel
Quiet park at the Langenbach Valley
A warm welcome
Nice that you have found your way to us. At our Dorint Parkhotel Siegen you will find numerous meeting facilities, excellent seasonal treats and relaxation options, e.g. in our large spa and wellness area.

Enjoy all the attractive benefits of our hotel and the city of Siegen when you visit us.

We look forward to welcoming you to our hotel!

Your Dominik Huebler and the #HotelHelden Siegen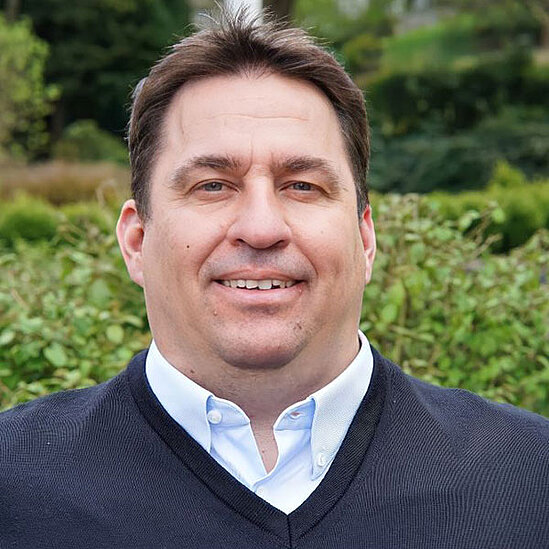 Opening hours
Breakfast hours:
Monday - Friday: 06:30 - 10:00 a.m.
Saturday & Sunday: 07:00 - 11:00 a.m.
Restaurant hours:
Monday - Thursday: 18:00 - 23:00 (hot food until 21:30)
Friday - Saturday: 15:00 - 23:00 (hot food until 21:30)
Sunday: snacks and cakes from 12:00 to 16:00).
Wellness hours:
Monday - Thursday: 17:00 - 22:00 hrs.
Friday - Saturday: 11:00 a.m. to 10:00 p.m.
Sunday: 17:00 - 22:00 hrs
Discover our rooms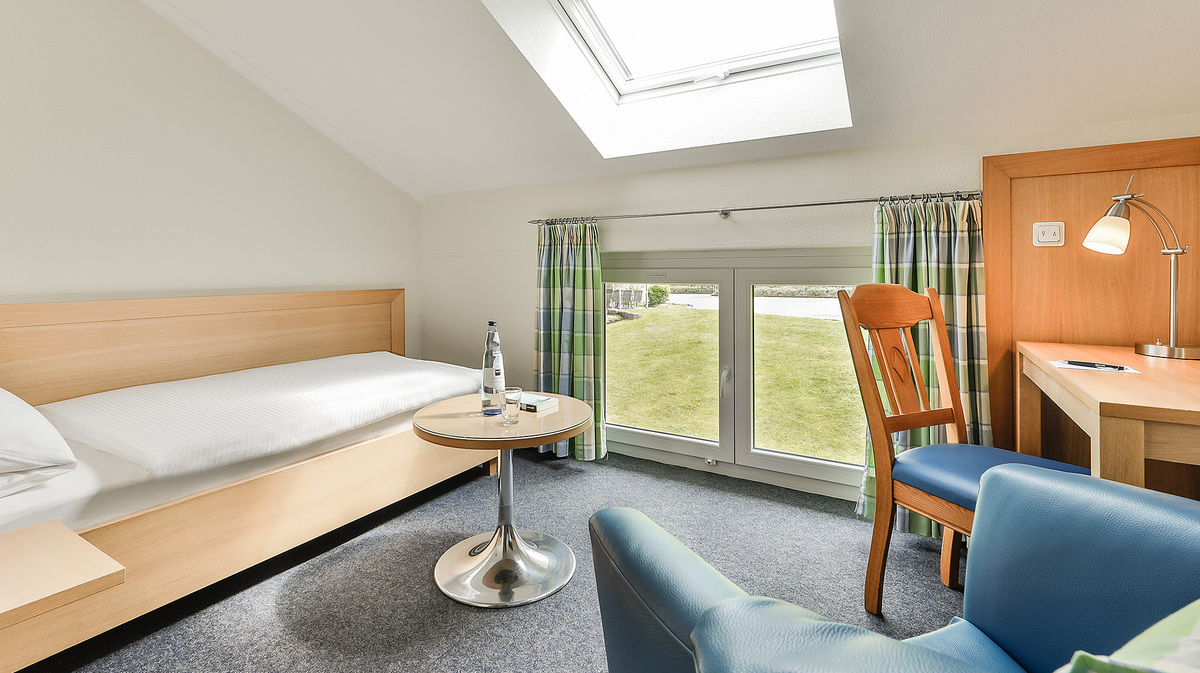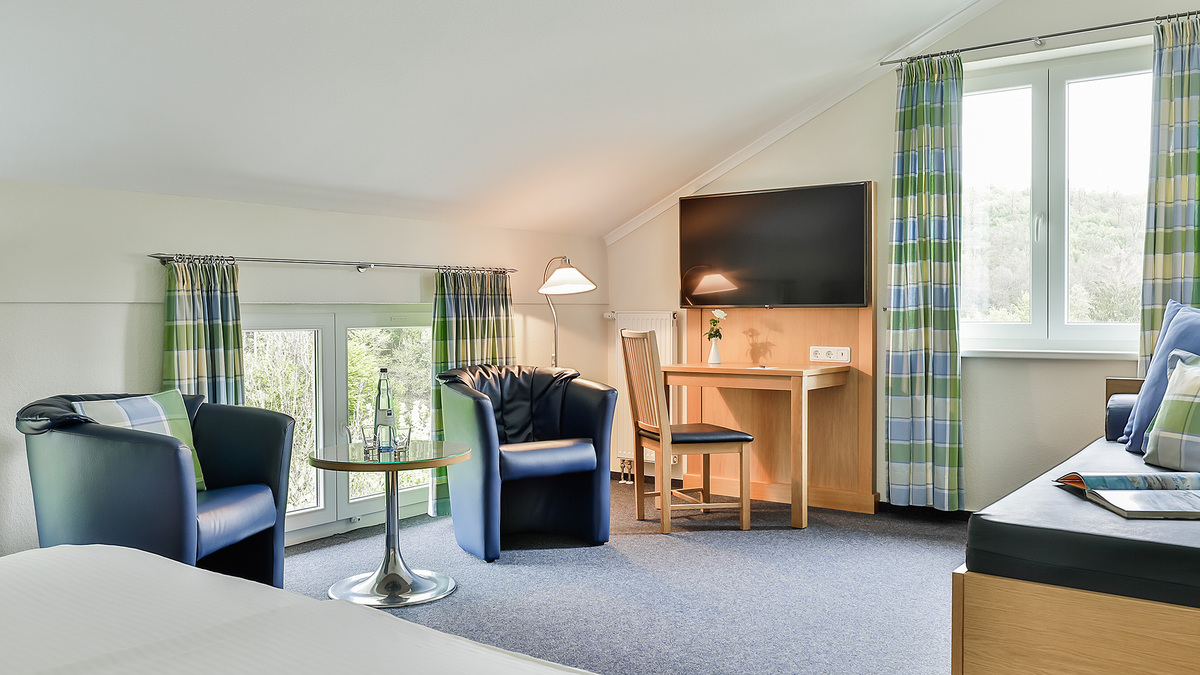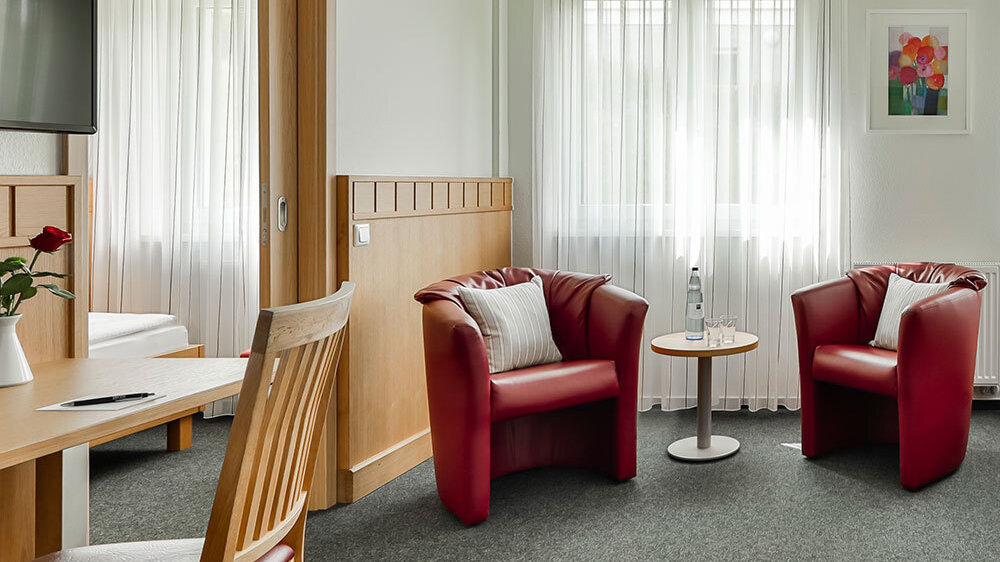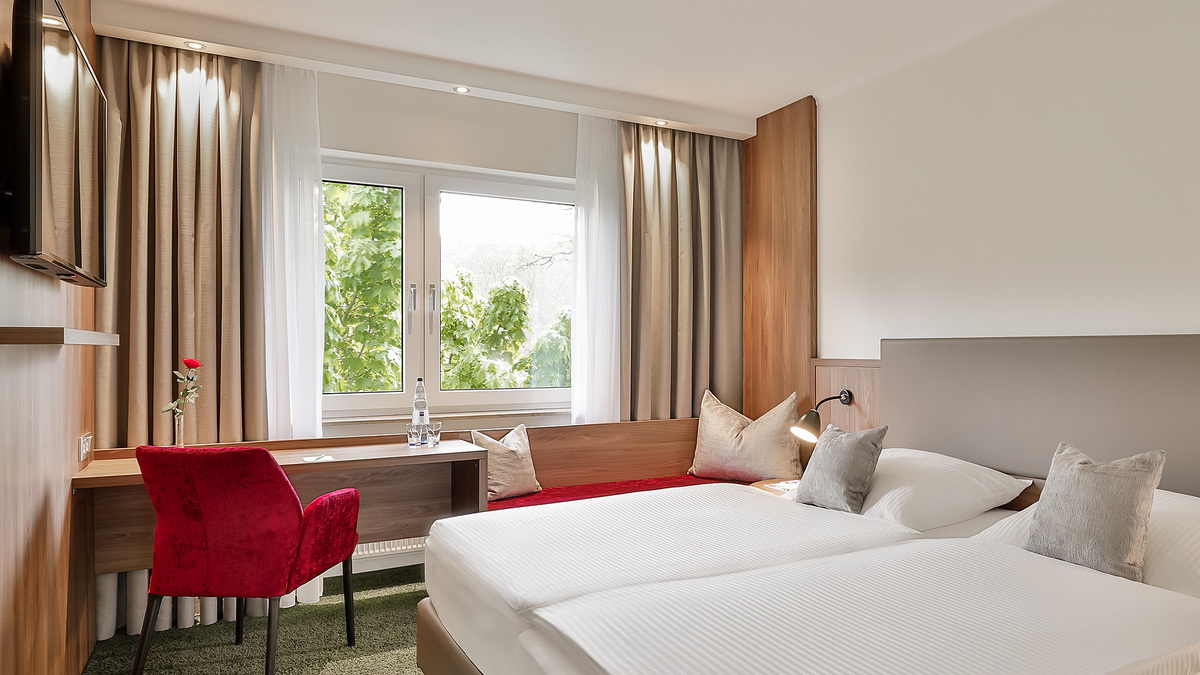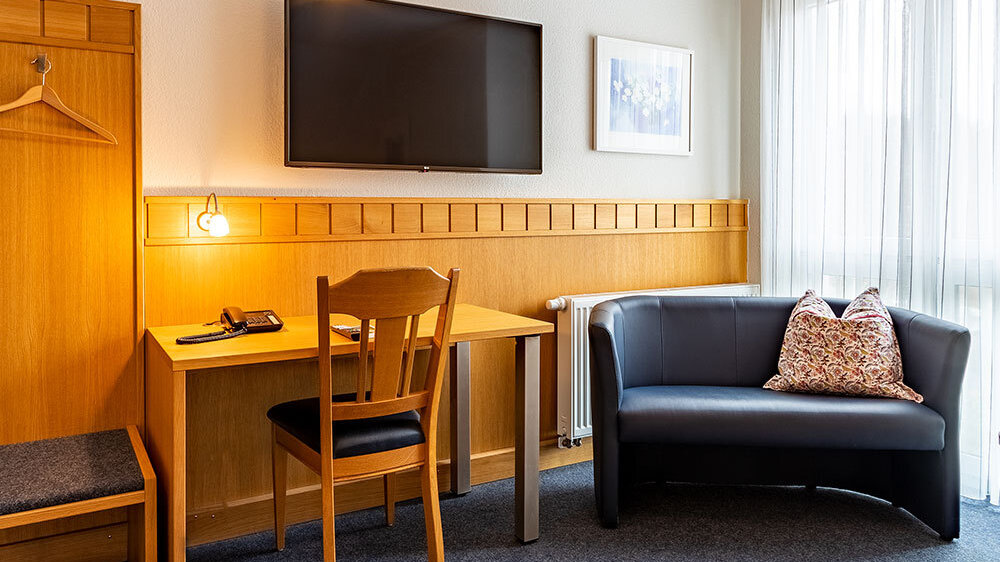 Restaurants & Bars
Your restaurants & bars at the Dorint Parkhotel Siegen

At the Dorint Parkhotel Siegen you will not only find a place to feel good. Our restaurant with its large garden terrace also welcomes you with culinary arts from the kitchen.

Where kitchen art and table culture combine in a traditionally grown ambience, you can enjoy hospitality with all your senses. A warm atmosphere, hospitality and flexibility await you in our cozy restaurant.

We will also be happy to arrange your private celebration here on special occasions and ensure unforgettable moments.

Let our menu inspire you.
Conferences & Celebrations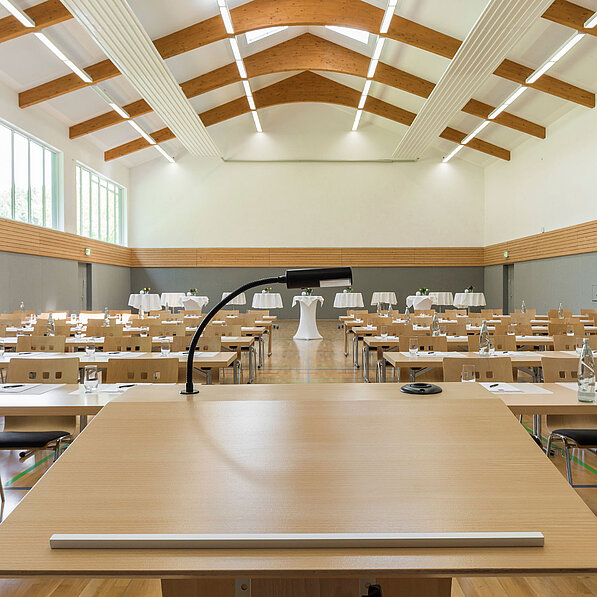 A special place with many possibilities
Hardly any other place offers so many different possibilities to realize your company event, conference, seminar, private celebration & Co. 14 rooms from 24 to 400 m² - distributed over several buildings, with our own festival hall, large foyer, multi-purpose hall, festival hall with stage as well as an unconsecrated chapel with a very special flair, make our offer so special. The total package is topped with our spacious park on the edge of a wooded area, which thus provides peace, relaxation and plenty of room for development.
You can find more information in our Factsheet.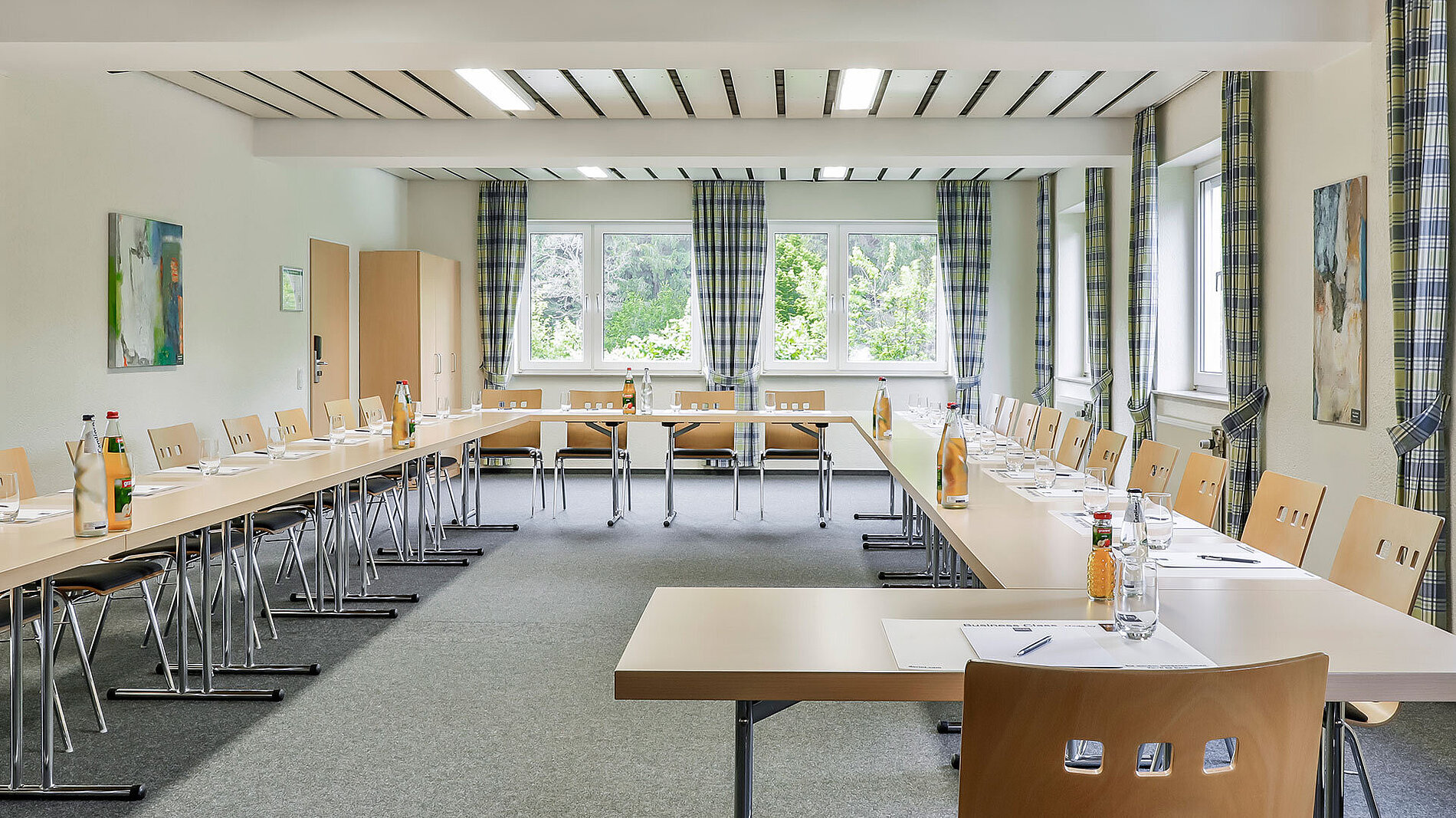 Quietly located, approx. 84 m² meeting room in the basement of the main house. Ideally suited for smaller groups with U-shaped seating. Equipped with a screen.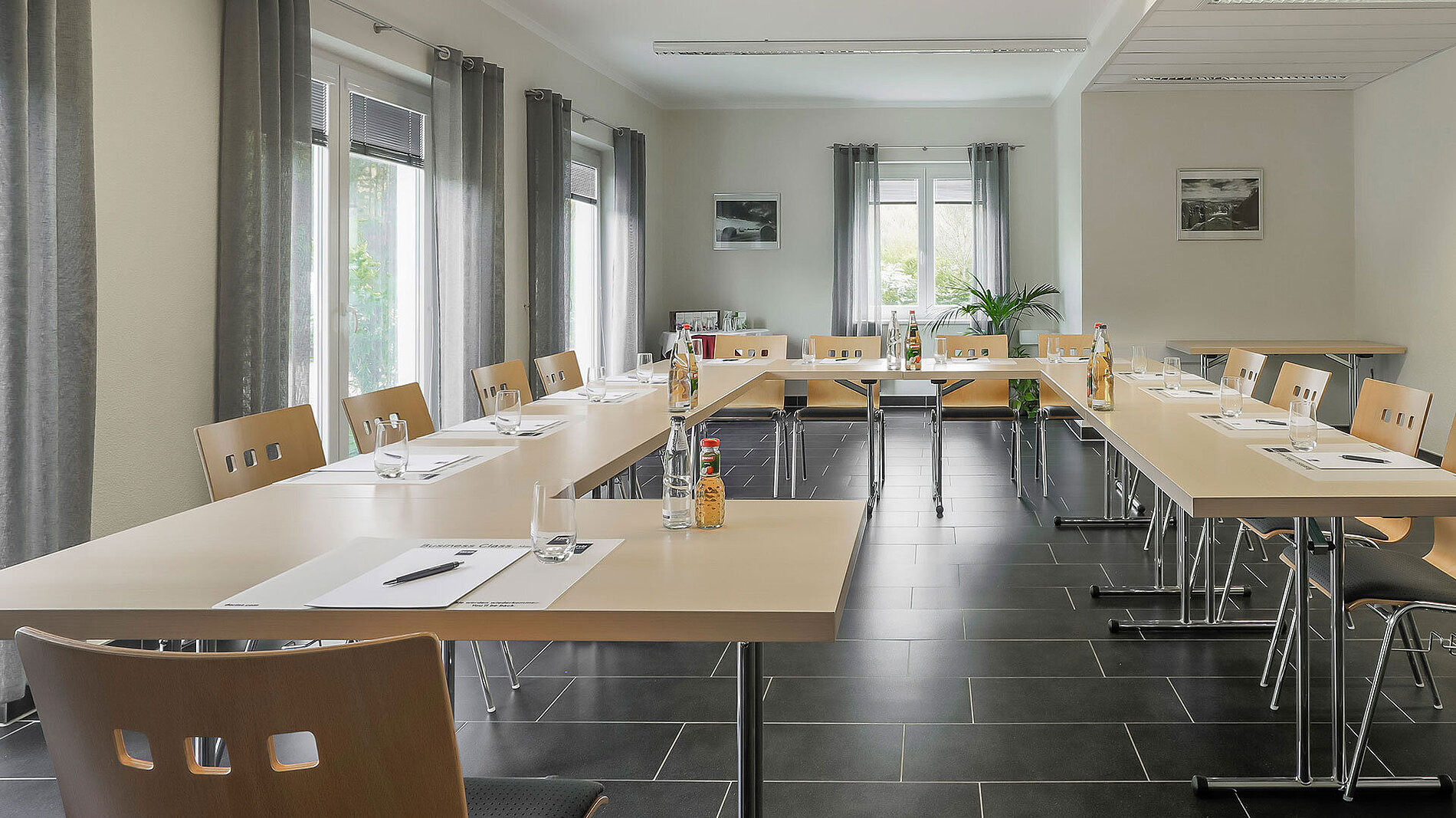 The room Sohlbach, just under 54 m² in size, is located on the first floor of the annex "Haus Kreuztal". Special feature of the room is the access to a small terrace.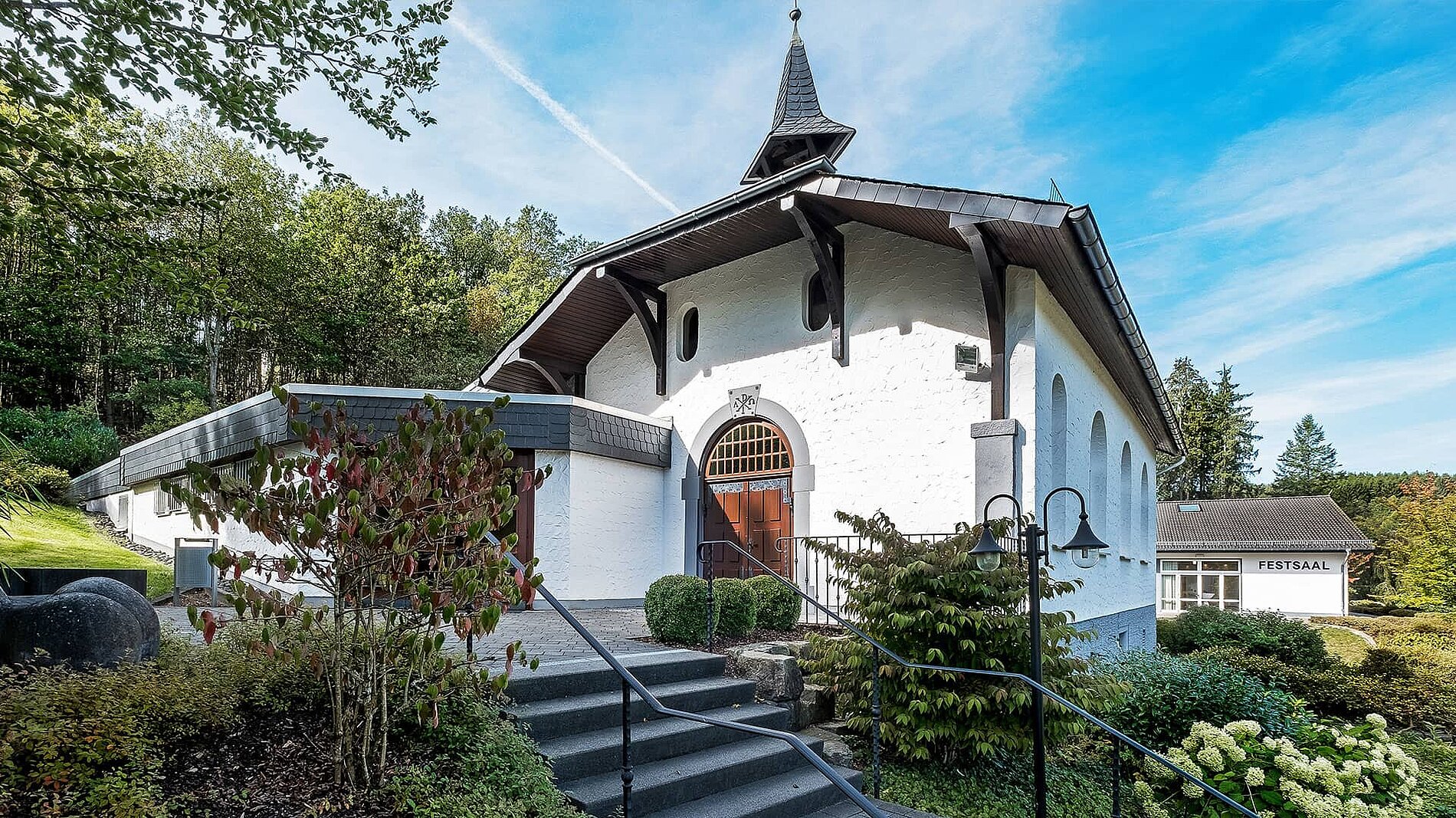 Due to the fact that our small chapel is unconsecrated, events of all kinds can be held here. Ideal as an exclusive venue with three separable rooms.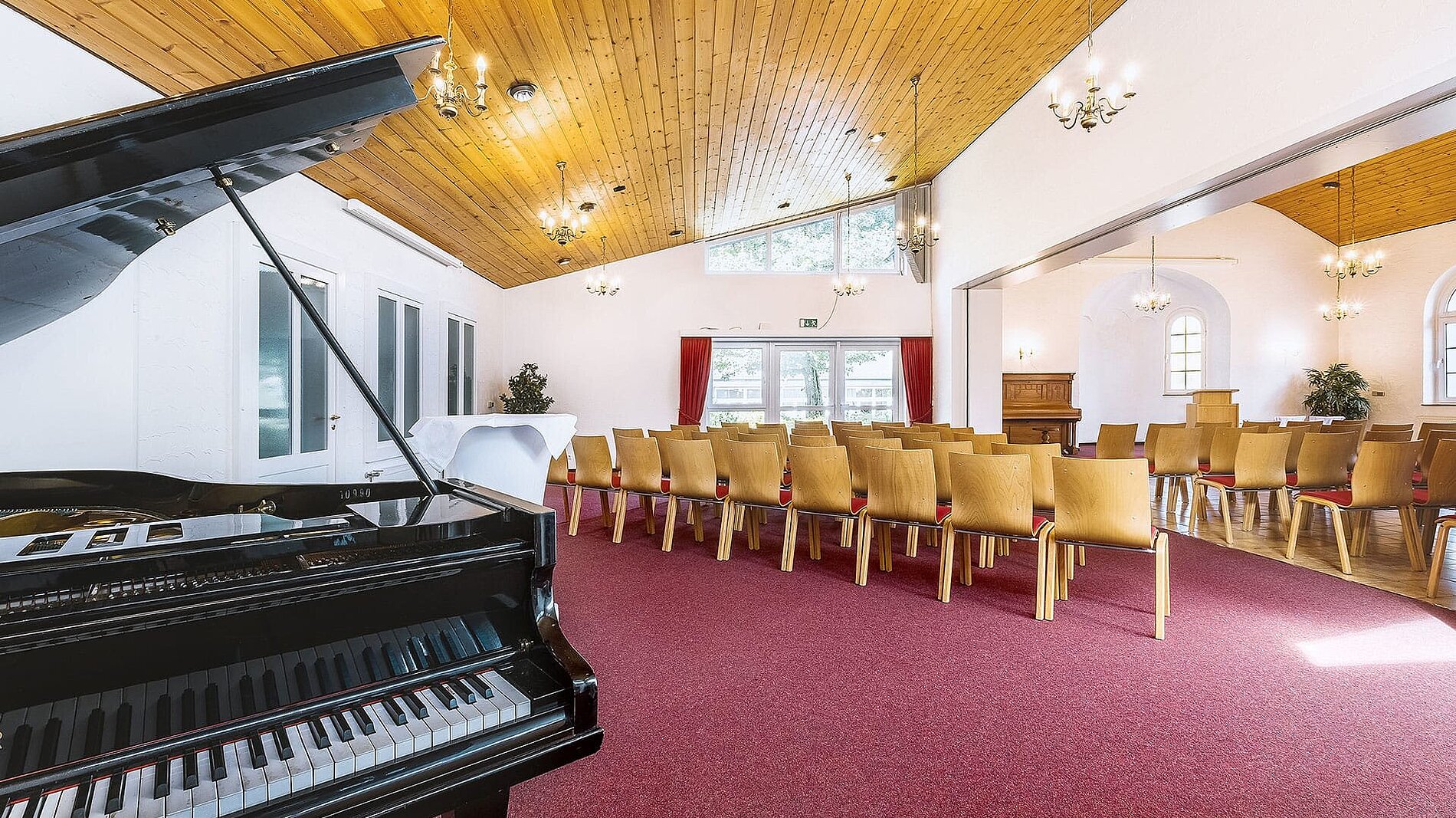 Devotional room & Birches
In combination (approx. 164 m²), these two rooms in the chapel offer a very special flair for weddings, celebrations, readings or even your conference.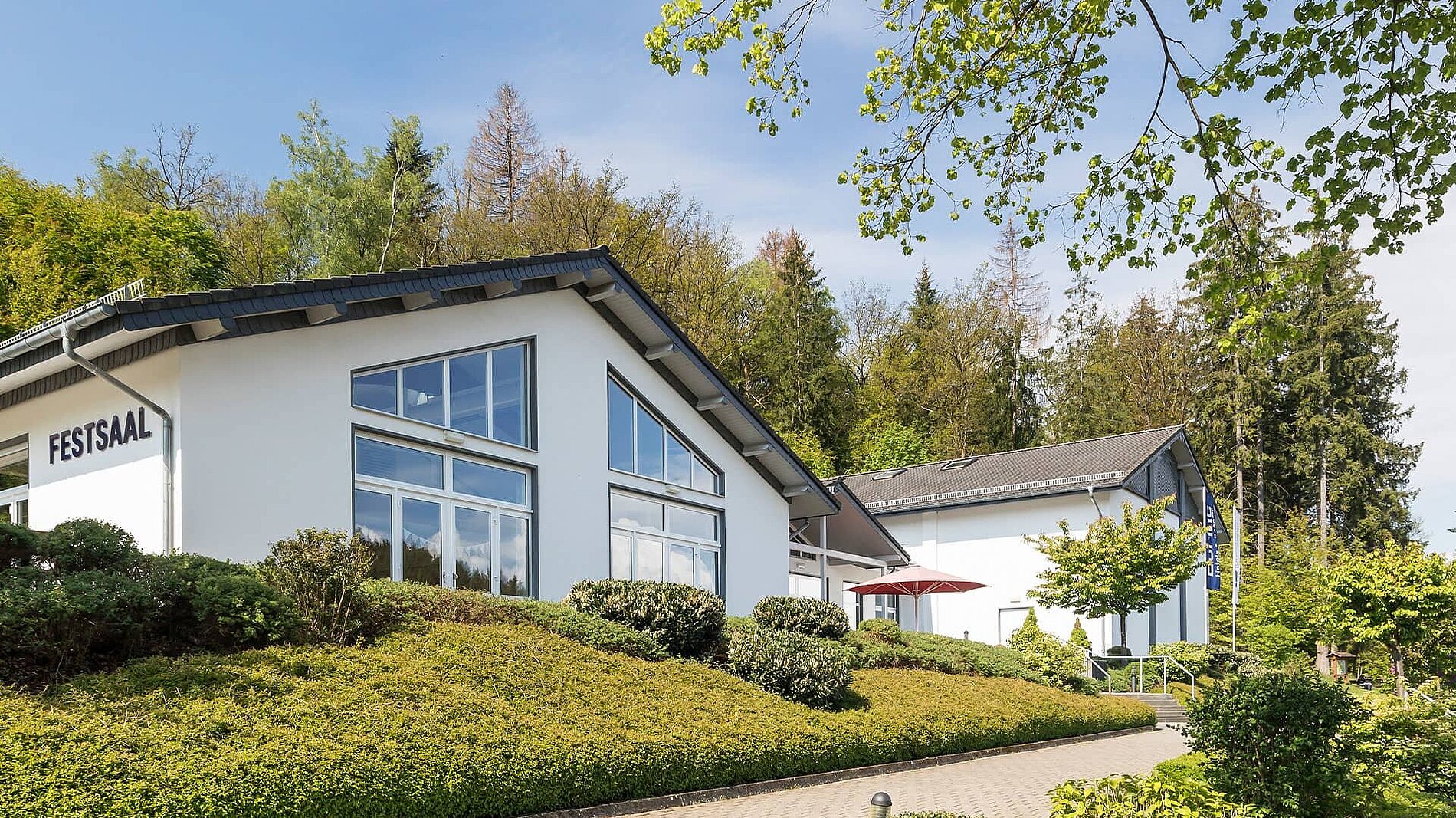 The Festhalle includes a 300 m² ballroom with stage, a 400 m² multi-purpose hall and a spacious foyer. It is located on the edge of the park area and thus offers privacy for your event.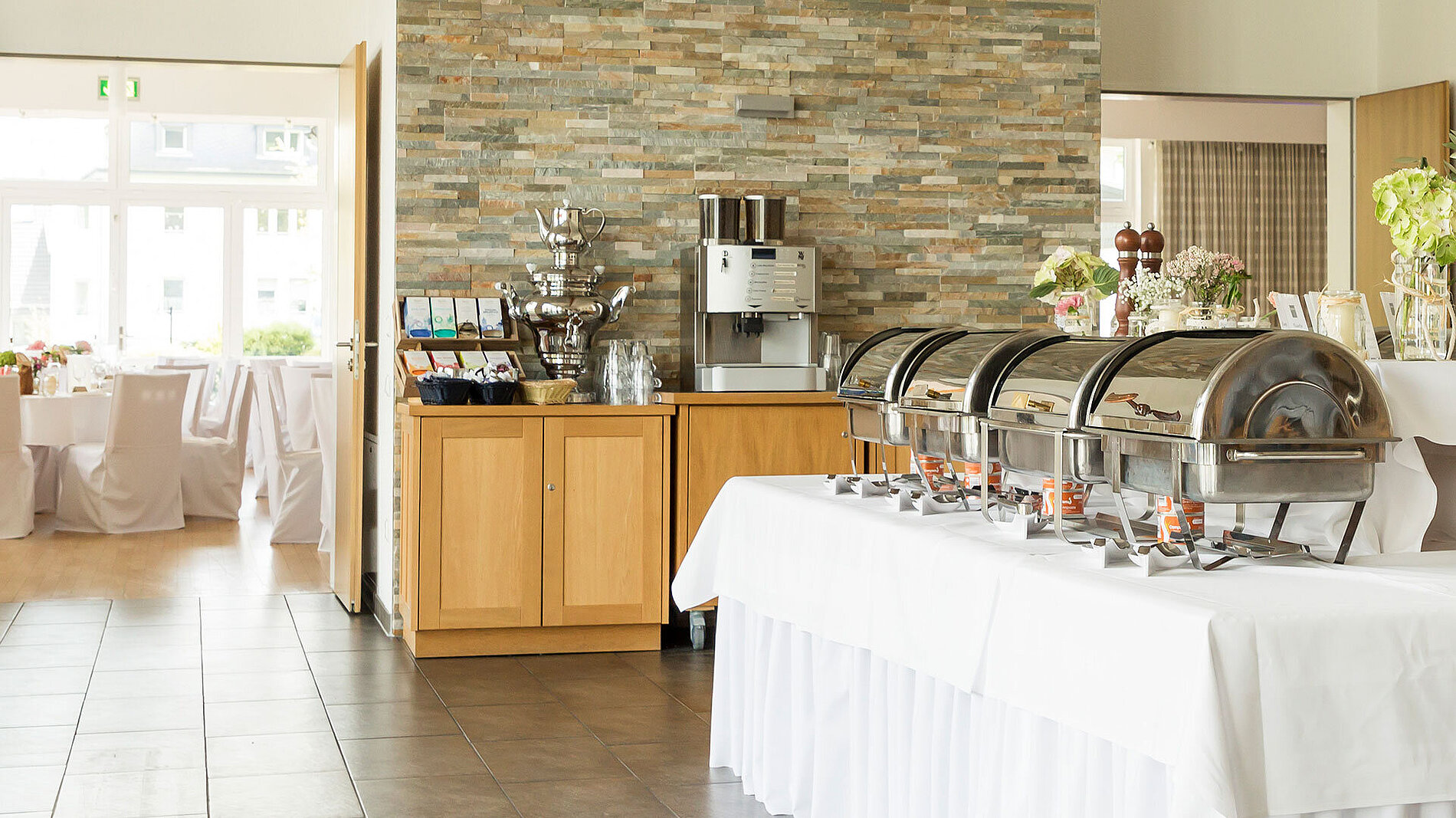 Foyer in the festival hall
Our festival hall also includes a spacious foyer, through which the multi-purpose hall and the banquet hall can be reached. Ideal for receptions or buffets.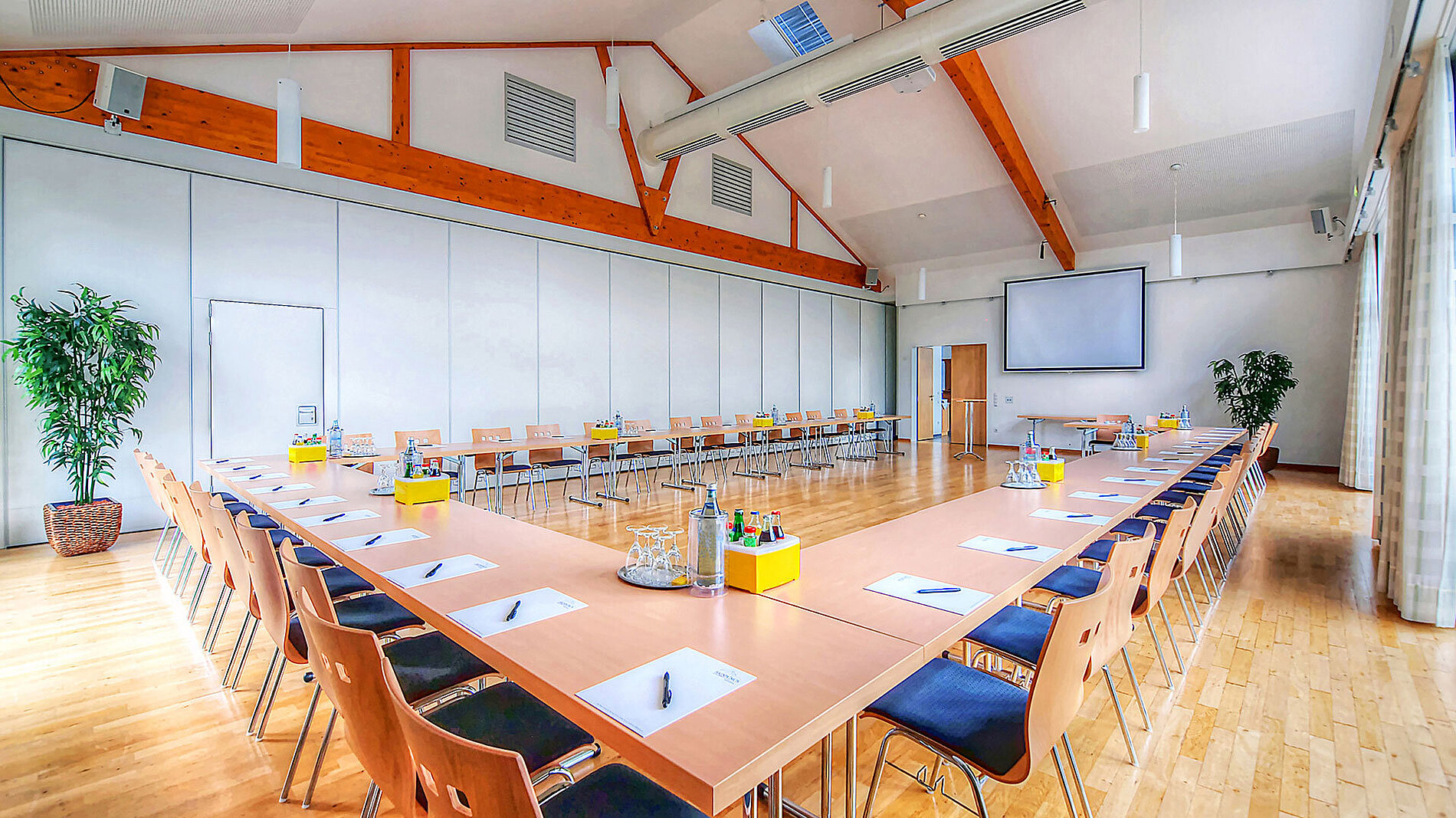 Via a variable partition wall, the large banqueting hall in the Festhalle can be transformed into a "small" and "medium" hall. The small hall is located on the park side and offers a lot of light thanks to the panoramic windows.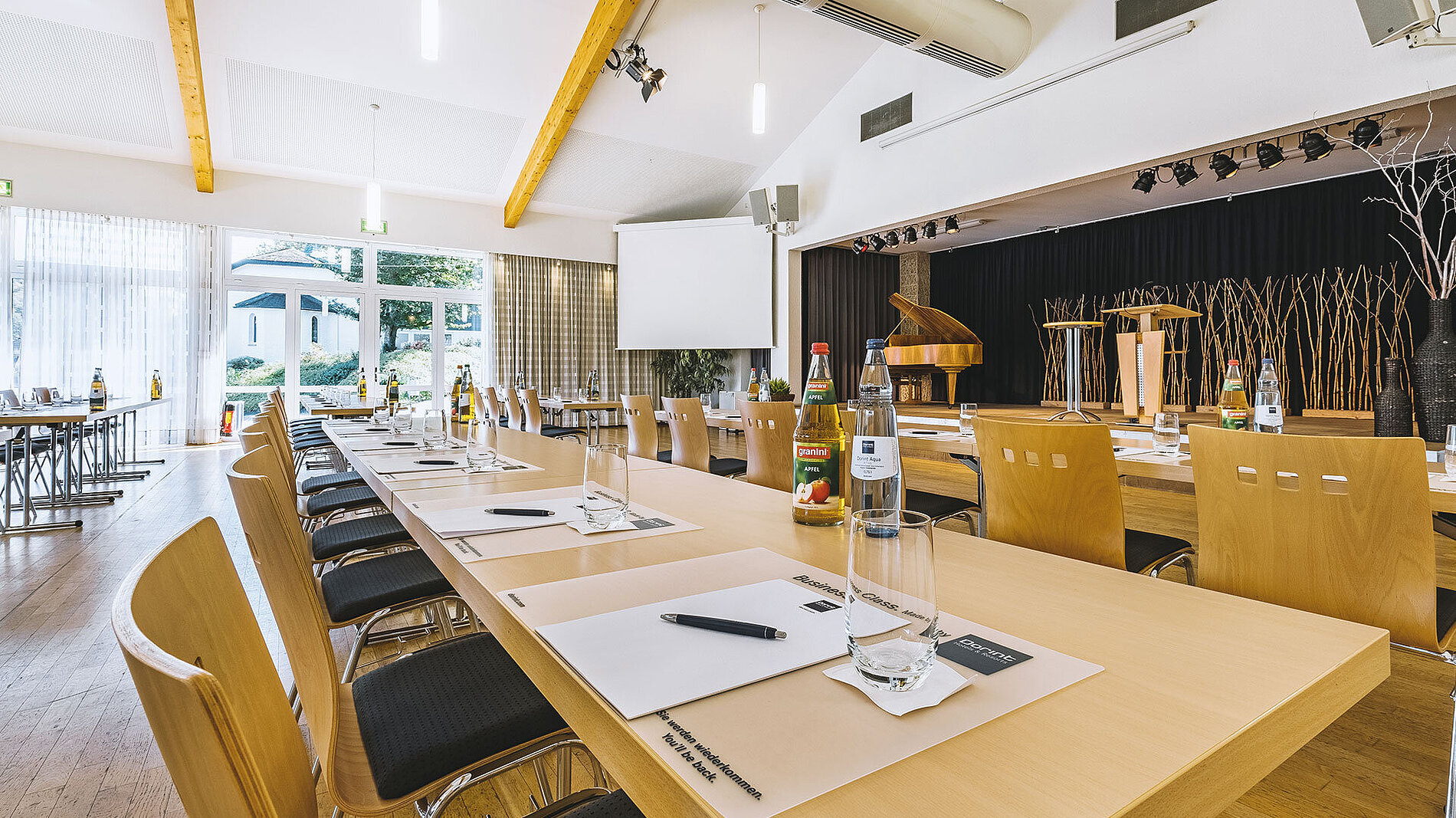 In the area of the "middle" hall is the large stage. This area offers excellent conditions for lectures.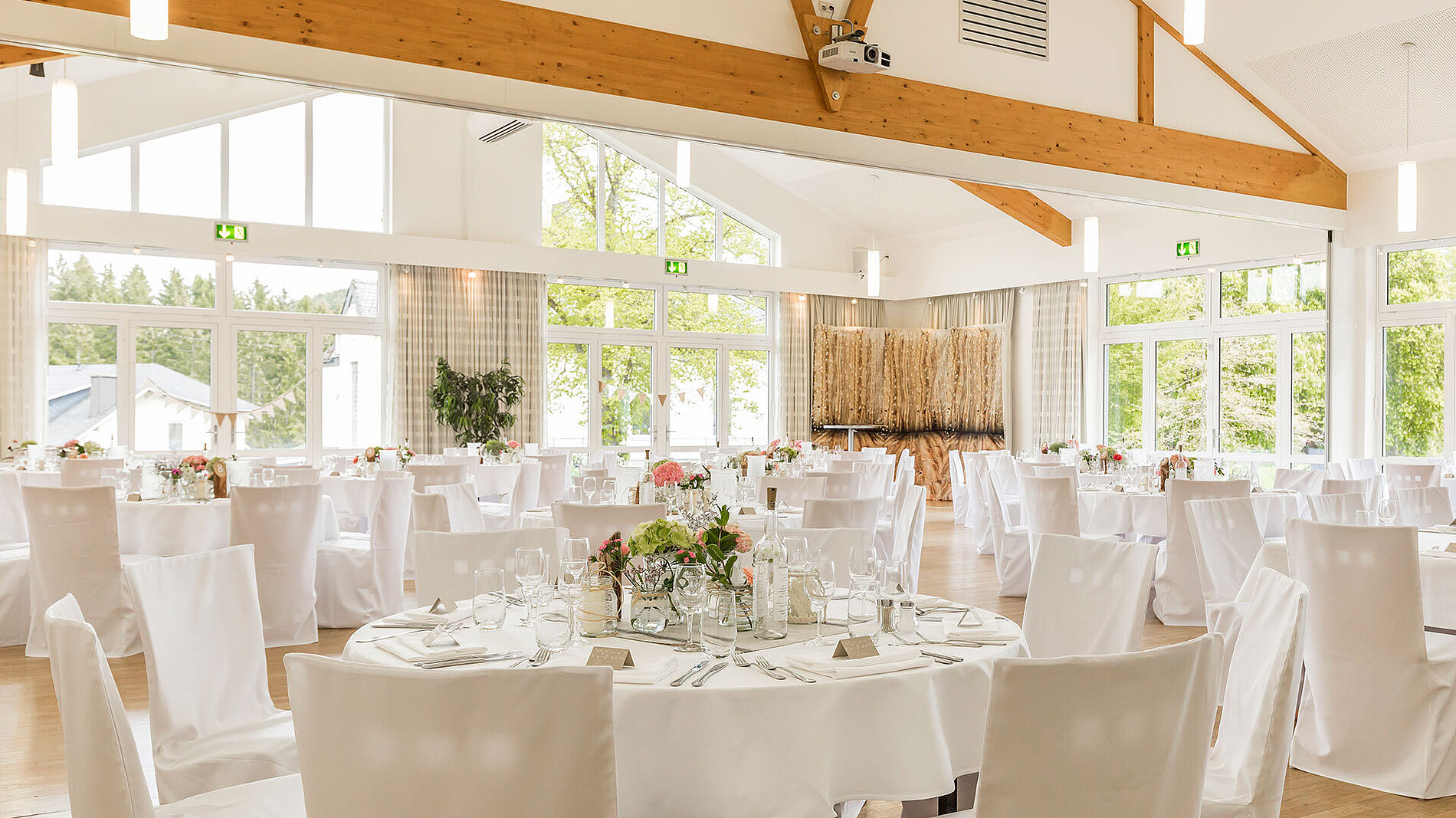 300 m² as made for a festive event like weddings - but also just as suitable for large corporate events e.g. with cinema seating (max. 300 pax).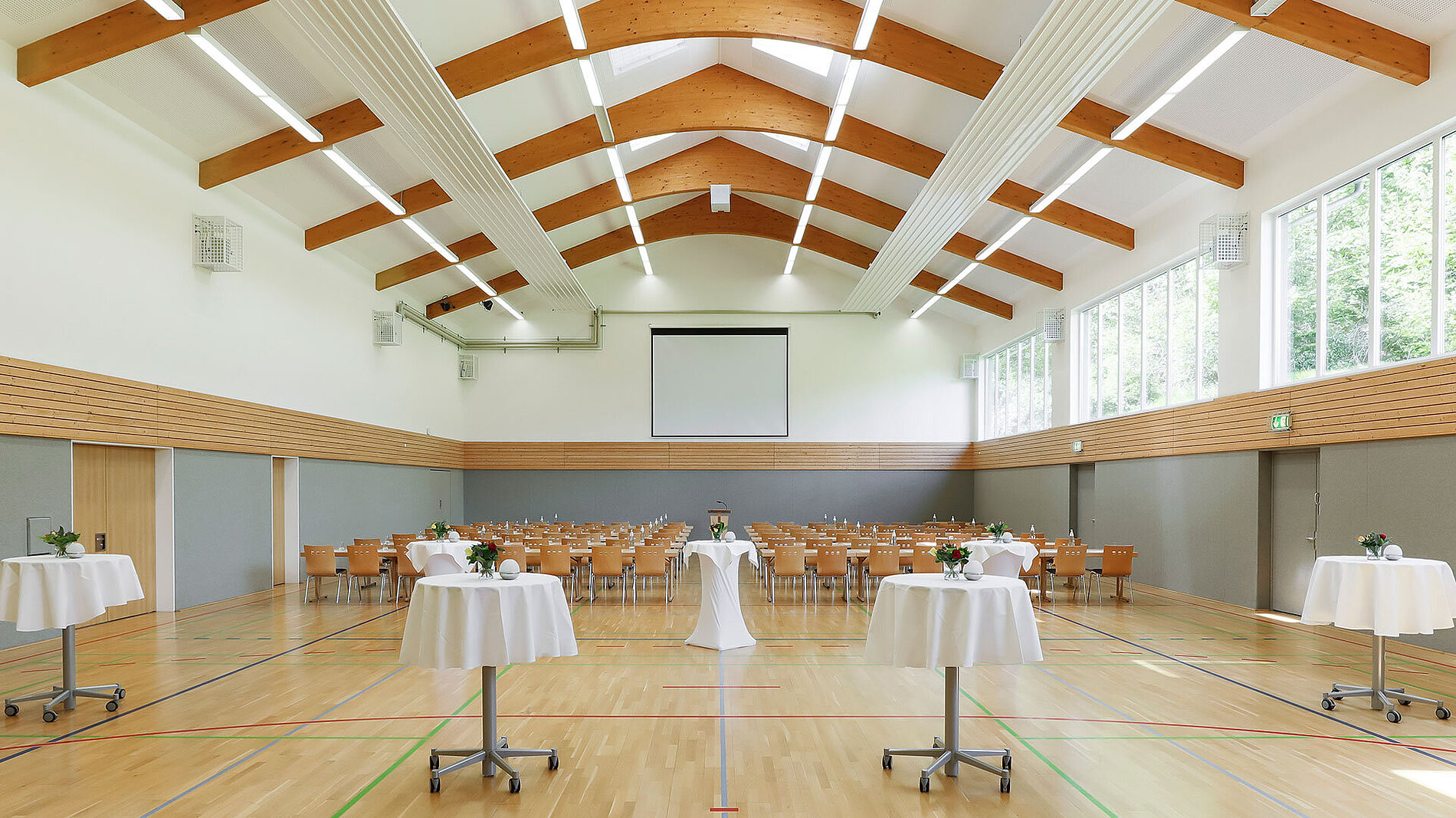 Whether it's a sporting event, club training or straightforward business meeting - our 400 m² multi-purpose hall is extremely versatile and guaranteed to provide a unique atmosphere.
Spa & Wellness
Wellness with Dorint

In the face of ever-increasing challenges in work and private life, we have created a small recreational space. In our wellness area with saunas, steam bath, relaxation room and a view of nature you will find relaxation and balance.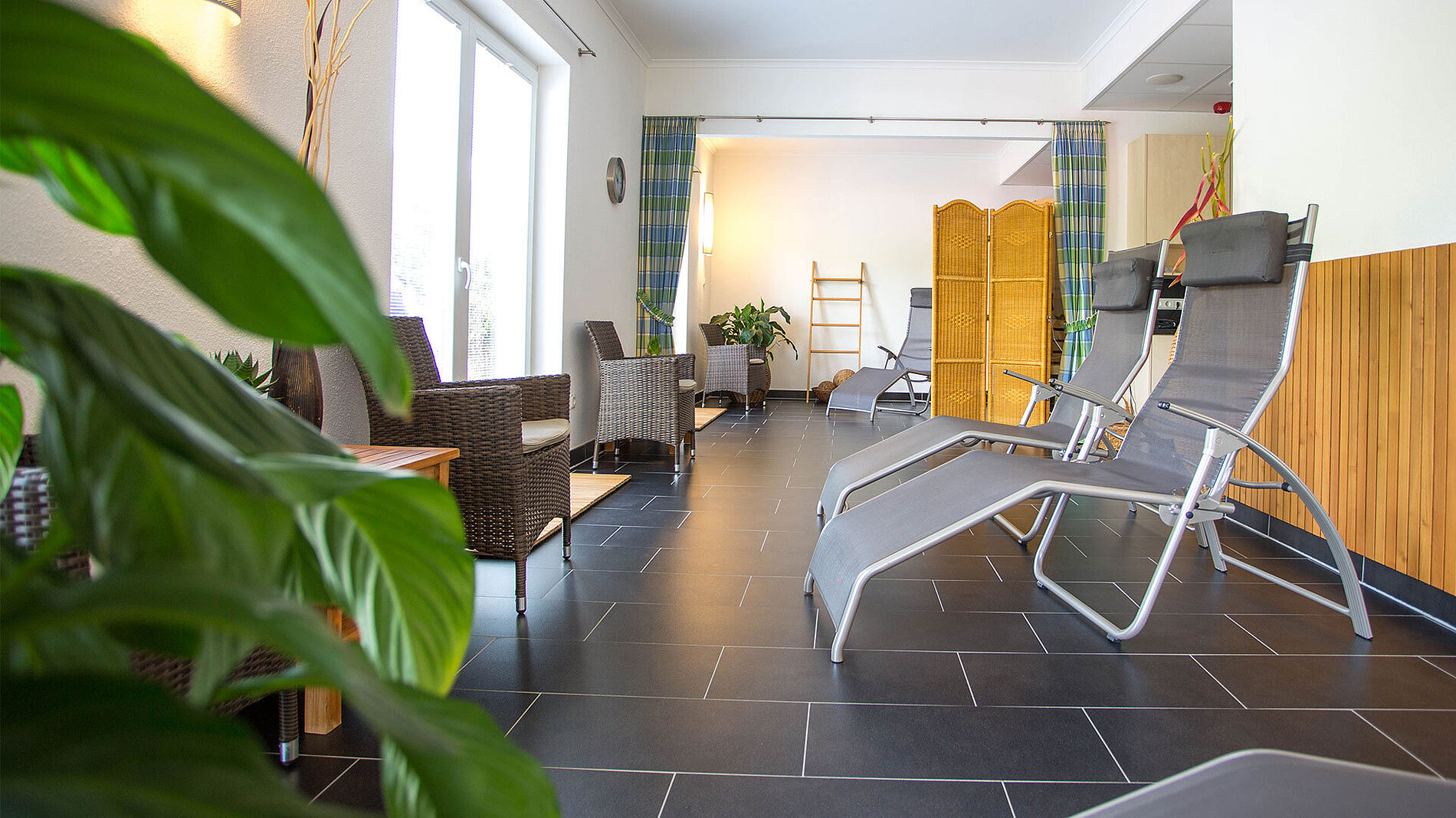 For hotel guests the use of the sauna area is included. Bathrobes and keys for the use of the available lockers are available free of charge (deposit 20 €) at the reception. Sauna towels are available in the lockers.
Opening hours:
Monday to Thursday: 16:00 - 22:00 hrs.
Friday and Saturday: 11:00 to 22:00
Sunday: 16:00 - 22:00 h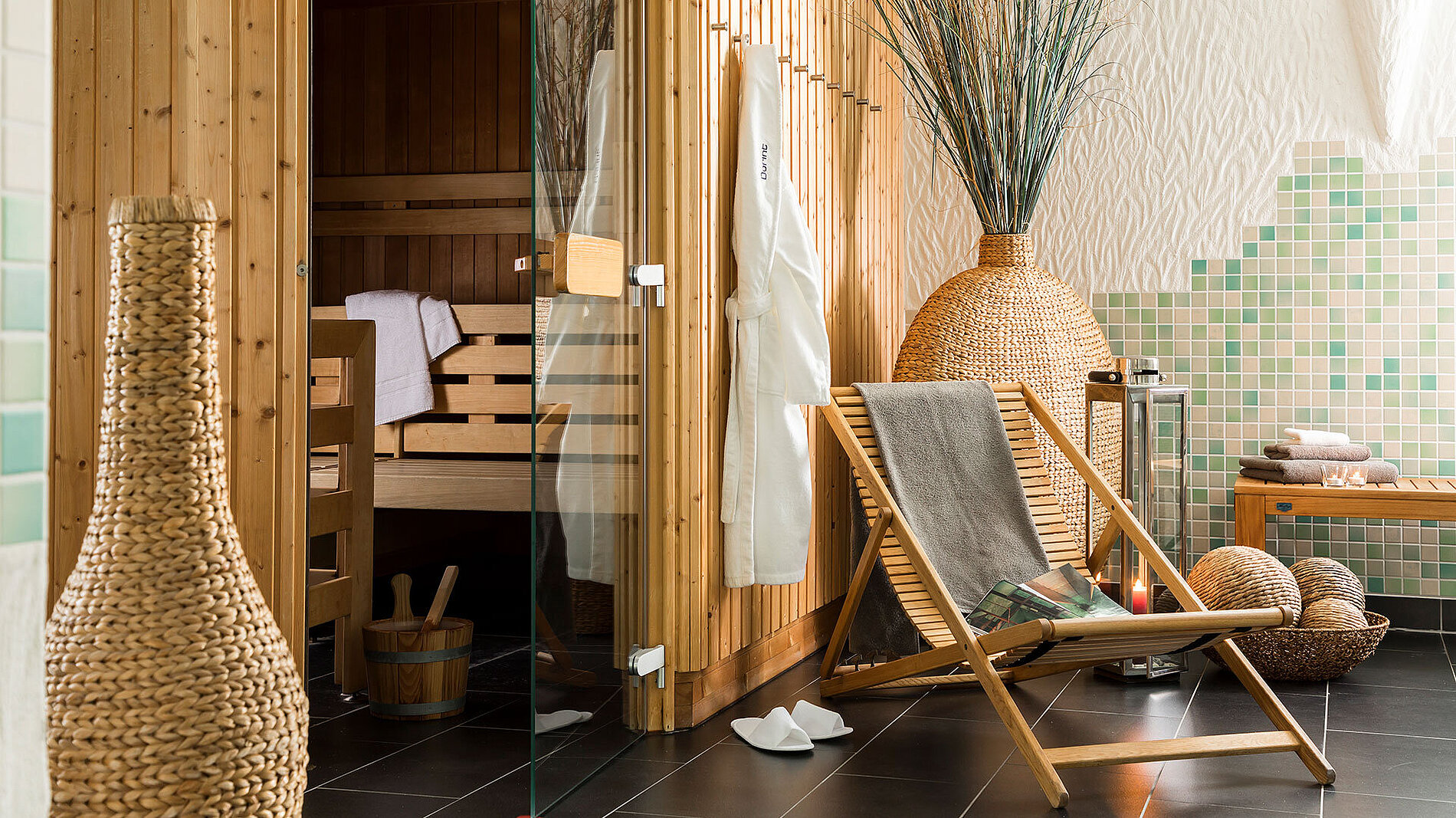 Our sauna and fitness area is also available to external guests for a relaxing break.
- Cost: 13,50 € per person/day
- Towels and bathrobes can be borrowed at the reception for a fee of 2,00 € each plus 20 € deposit
Arrangements & Offers
Happy Siegen

2 or 3 nights

Daily rich breakfast

2 x dinner (buffet or 3-course menu at the chef's choice)

1 bottle of mineral water in the room

Use of the sauna and fitness area

Siegerland on 4 paws

2 nights

1 dog stays in the room free of charge

Daily rich breakfast

1 x 3-course menu or buffet (chef's choice)

1 bottle of mineral water in the room

Use of the sauna and fitness area
Pictures
Real people, real experience, real emotion.
Dorint makes dreams come true.
We have the right activity for every explorer and bon vivant: simply browse through our offers and decide on your favourite experience. With us you can discover holidays in a whole new way: Make a wish!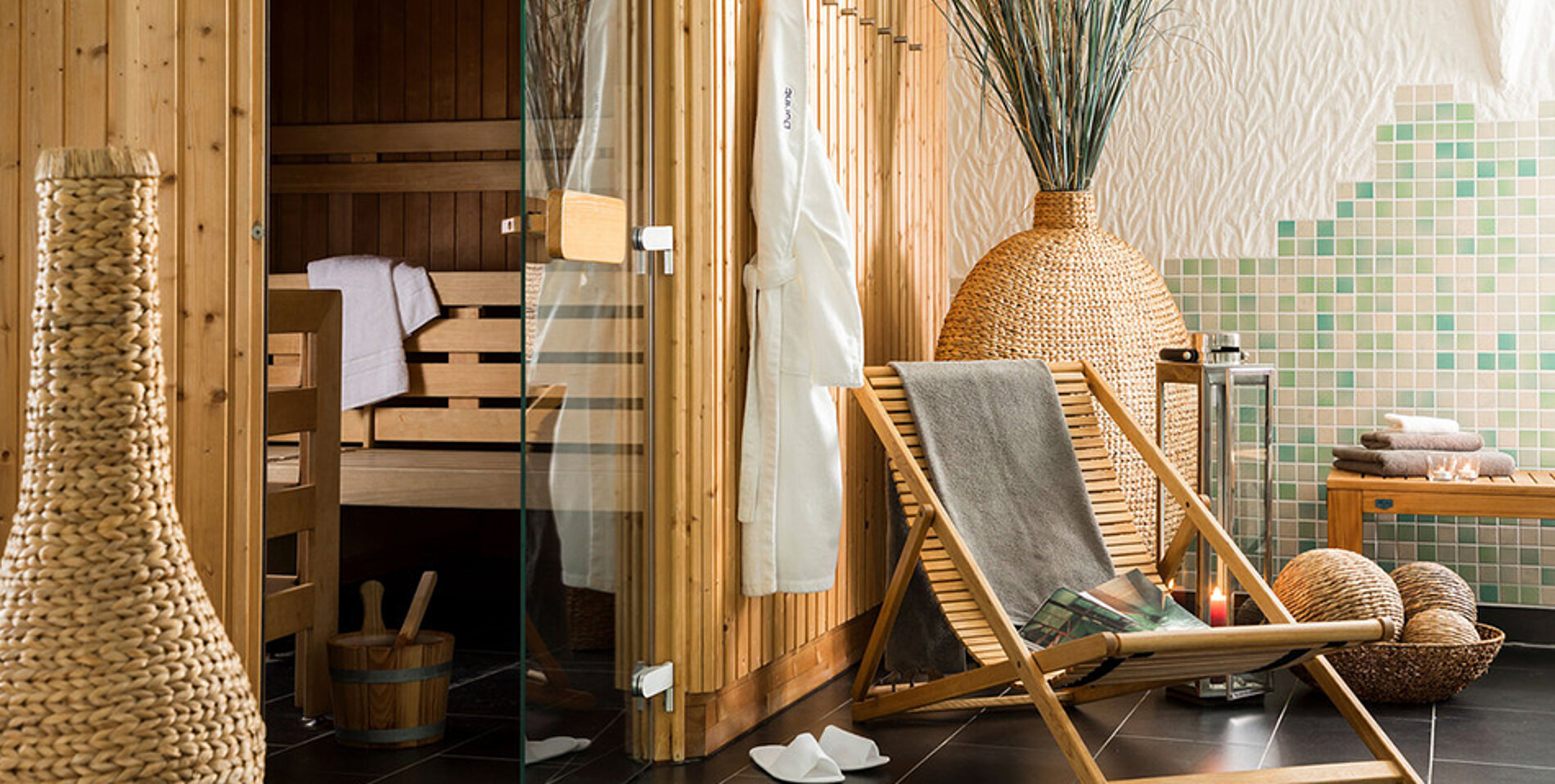 After a long day, a touch of relaxation awaits in our sauna area. Recharge your batteries with saunas, a steam bath, relaxation room and the idyllic view from our hotel.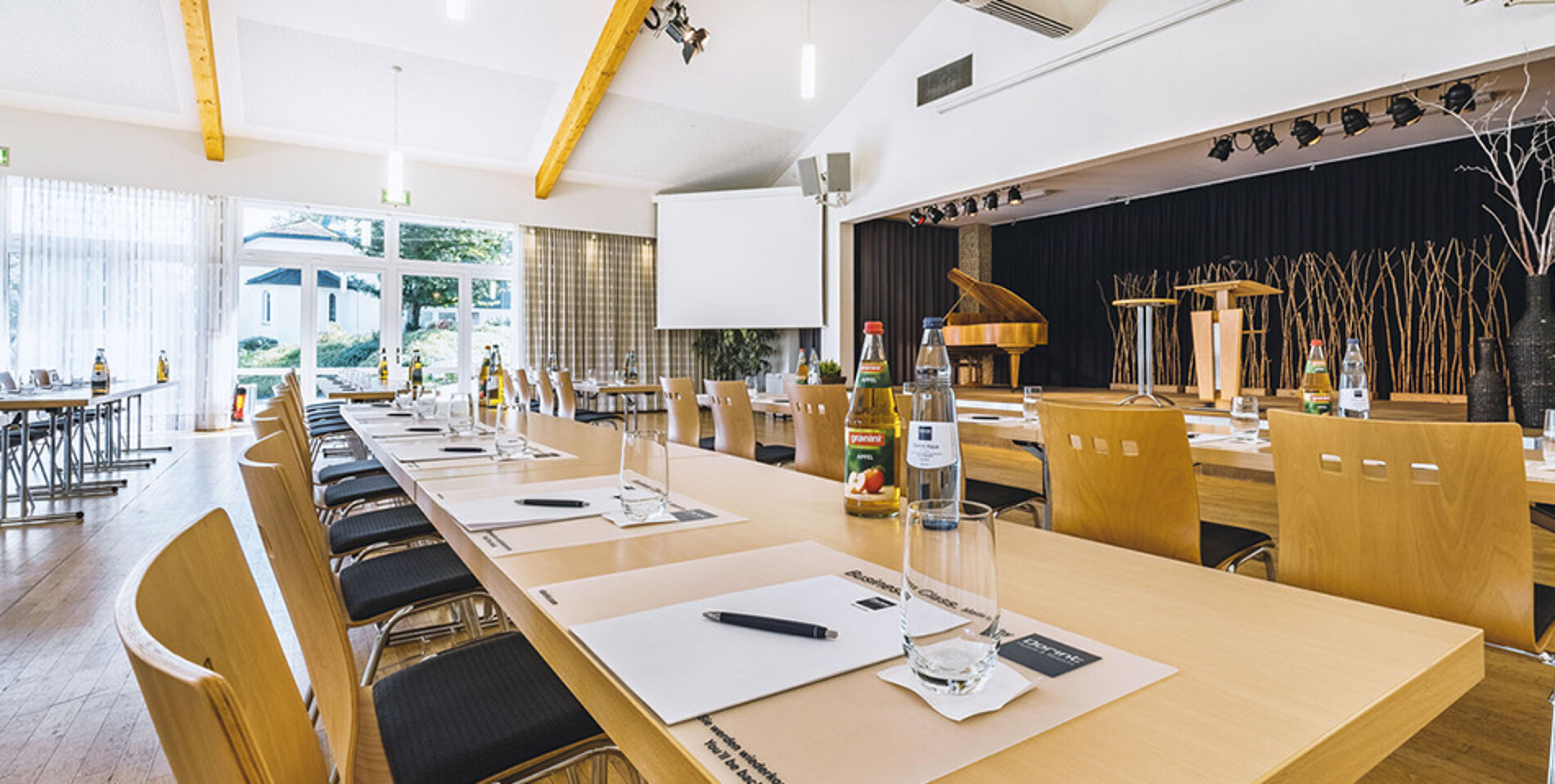 Unique event rooms with festival hall & chapel

The conference and event possibilities are almost unlimited at the Dorint Parkhotel Siegen. From the festival hall with ballroom and multi-purpose hall, to an (unconsecrated) chapel, to other smaller rooms, you will find ideal conditions for your event with up to 400 people.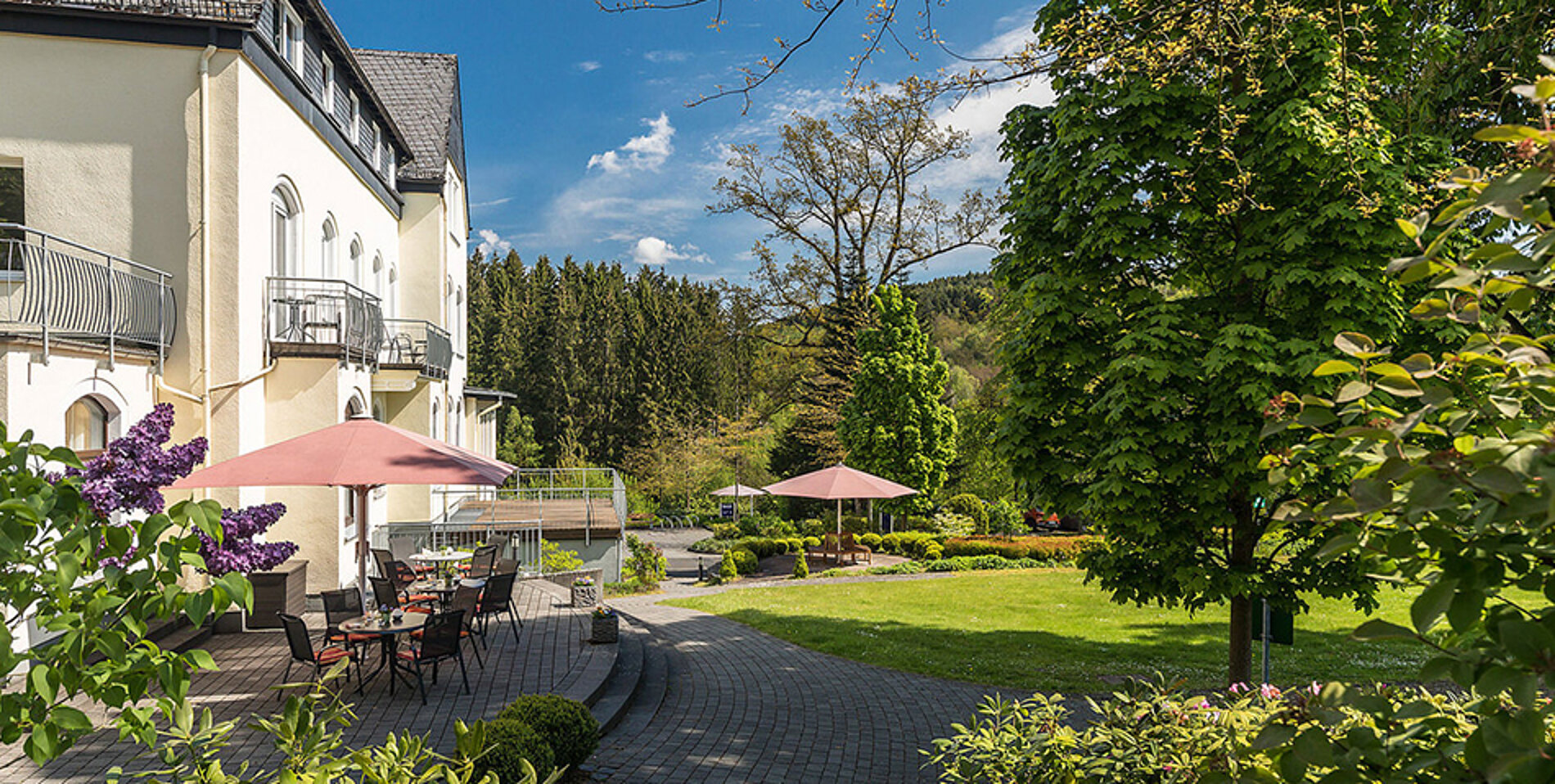 A feel-good place in the green

The hotel is located in a spacious park with an adjacent forest area where you can set out on numerous hiking routes. Experience the wonderful nature of the Langenbach Valley on the edge of the Rothaar Mountains.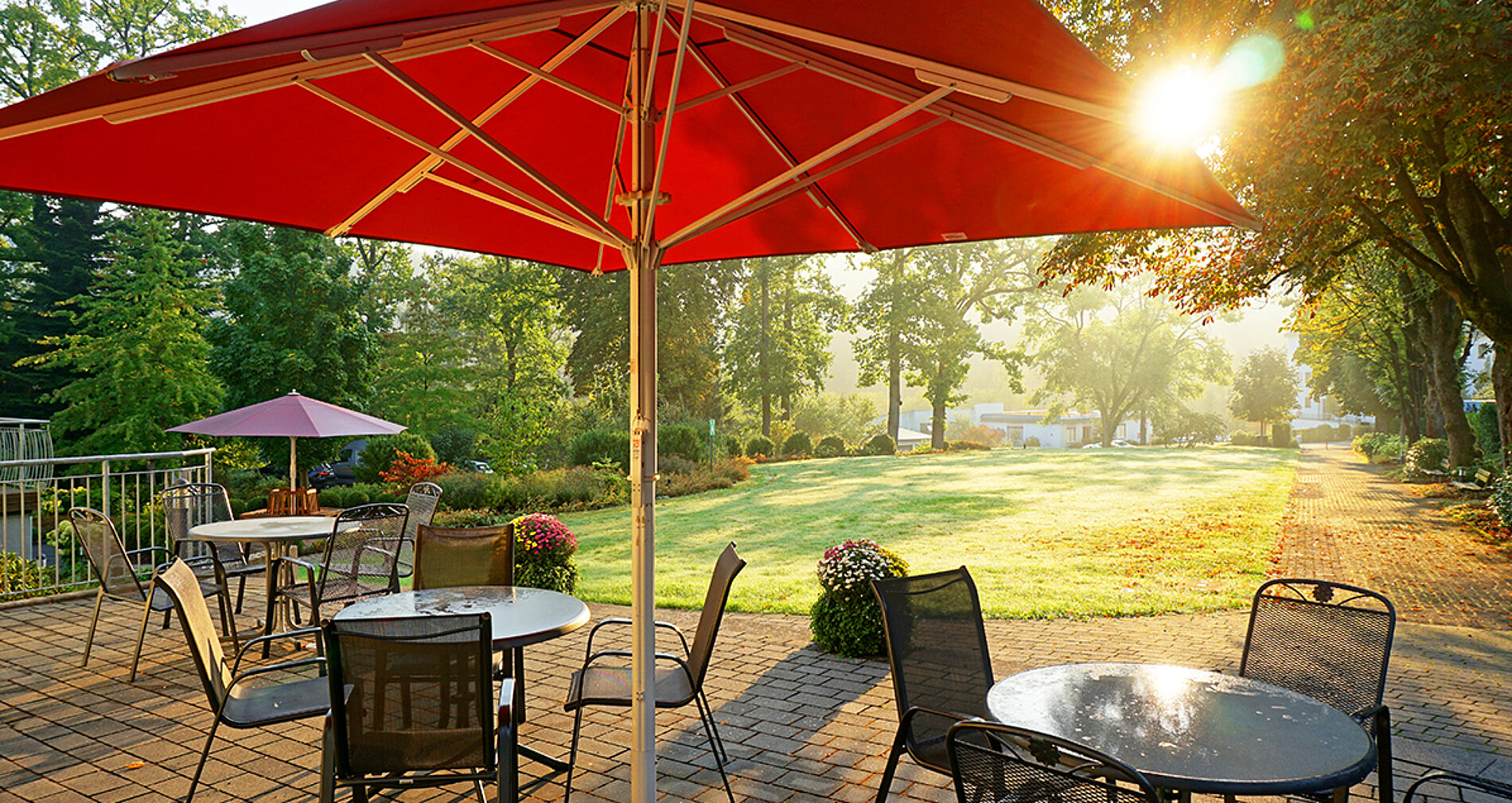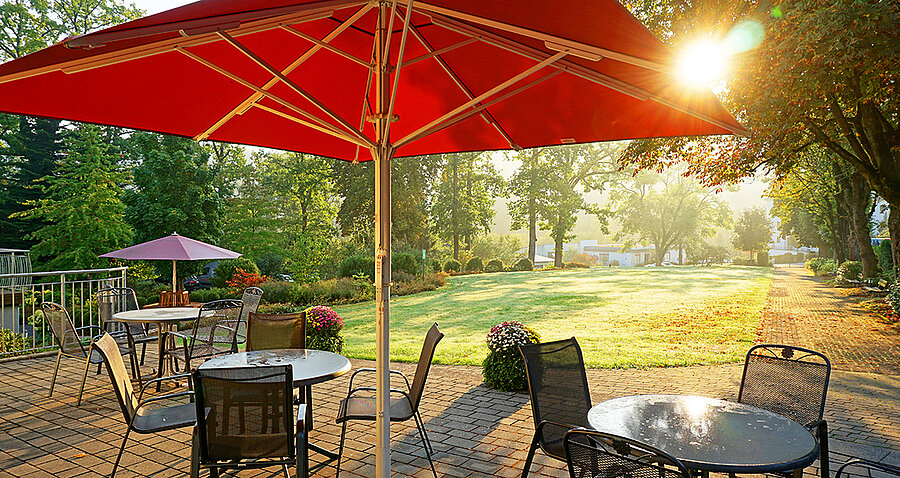 The following hotels are independently managed by franchisees of Dorint GmbH (these franchisees then as hotel operators), in their own name and for their own account by the respective operating company:

Dorint Parkhotel Siegen
Halbersbacher Privathotels GmbH
Mollistraße 10 · 18209 Bad Doberan
Registergericht Rostock: HRB 12283
Geschäftsführer: Arne Mundt, Anke Mundt
Prokuristen: Christian Balgar, Robert Zilm
Ust-IdNr.: DE283313489