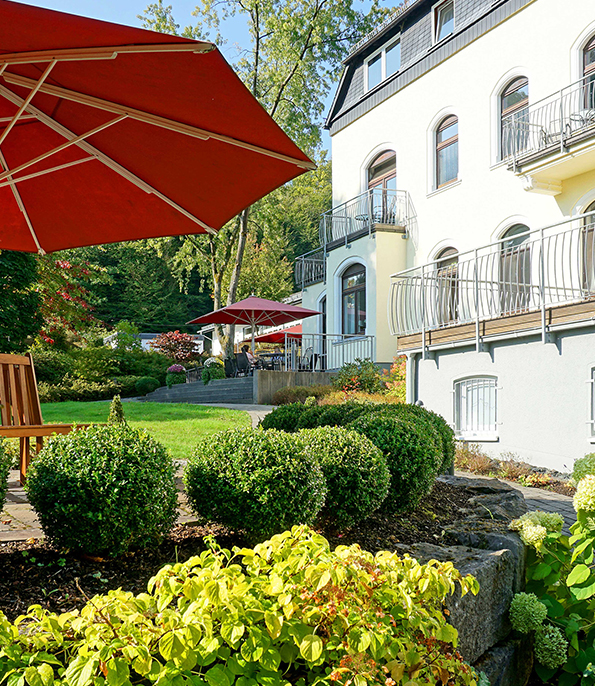 Your Dorint Hotel Dorint Parkhotel Siegen
The lively university town has much more to offer than the Rothaar Mountains and the Langenbach Valley. That is why we would like to take you on a journey through the wonderful city of Siegen and introduce you to its unique Siegerland charm.
Patmosweg 60, 57078 Siegen
Telephone: +49 271 770 096-0
Fax: +49 271 770096-105
Email: info(at)siegen.dorint.com
Reservation center Dorint Parkhotel Siegen:
Reserve now!
City centre
6,6 km
Station
4,4 km
Airport
90,4 km
Relaxation in the sauna
Unique event rooms with festival hall & chapel
Quiet park at the Langenbach Valley
A warm welcome
Nice that you have found your way to us. At our Dorint Parkhotel Siegen you will find numerous meeting facilities, excellent seasonal treats and relaxation options, e.g. in our large spa and wellness area.

Enjoy all the attractive benefits of our hotel and the city of Siegen when you visit us.

We look forward to welcoming you to our hotel!

Your #HotelHelden Siegen
Opening hours
Breakfast hours:
Monday - Friday: 06:30 - 10:00 a.m.
Saturday & Sunday: 07:00 - 11:00 a.m.
Restaurant hours:
Monday - Thursday: 18:00 - 23:00 (hot food until 21:30)
Friday - Saturday: 15:00 - 23:00 (hot food until 21:30)
Sunday: snacks and cakes from 12:00 to 16:00).
Wellness hours:
Monday - Thursday: 17:00 - 22:00 hrs.
Friday - Saturday: 11:00 a.m. to 10:00 p.m.
Sunday: 17:00 - 22:00 hrs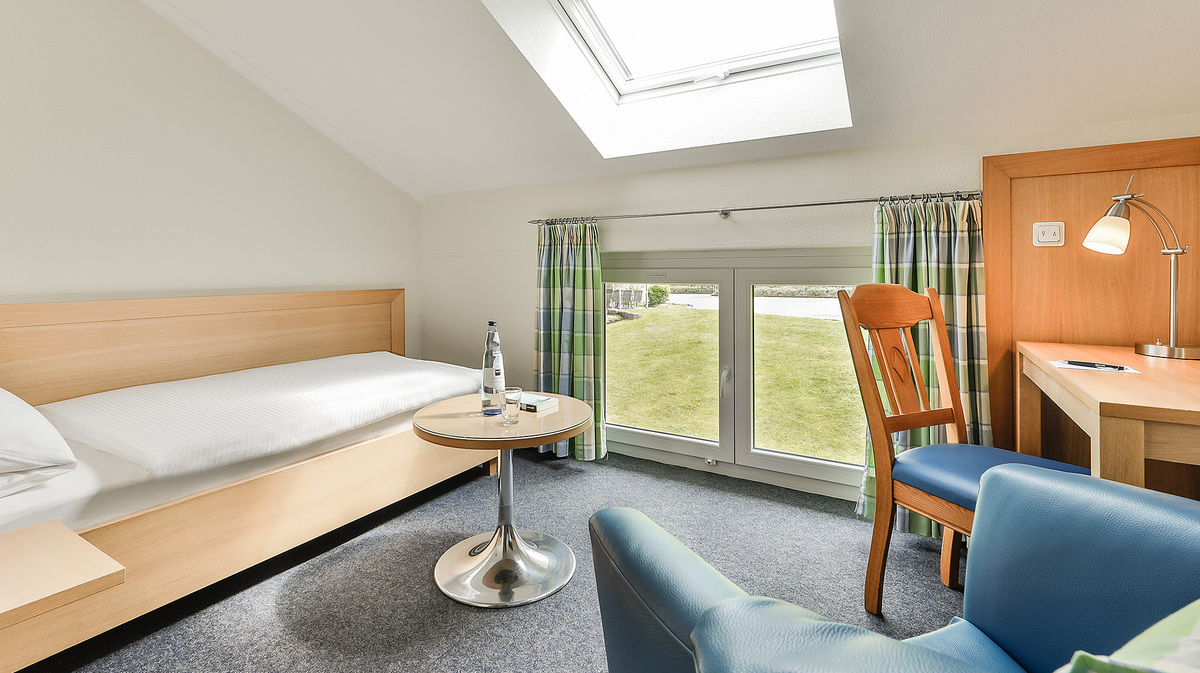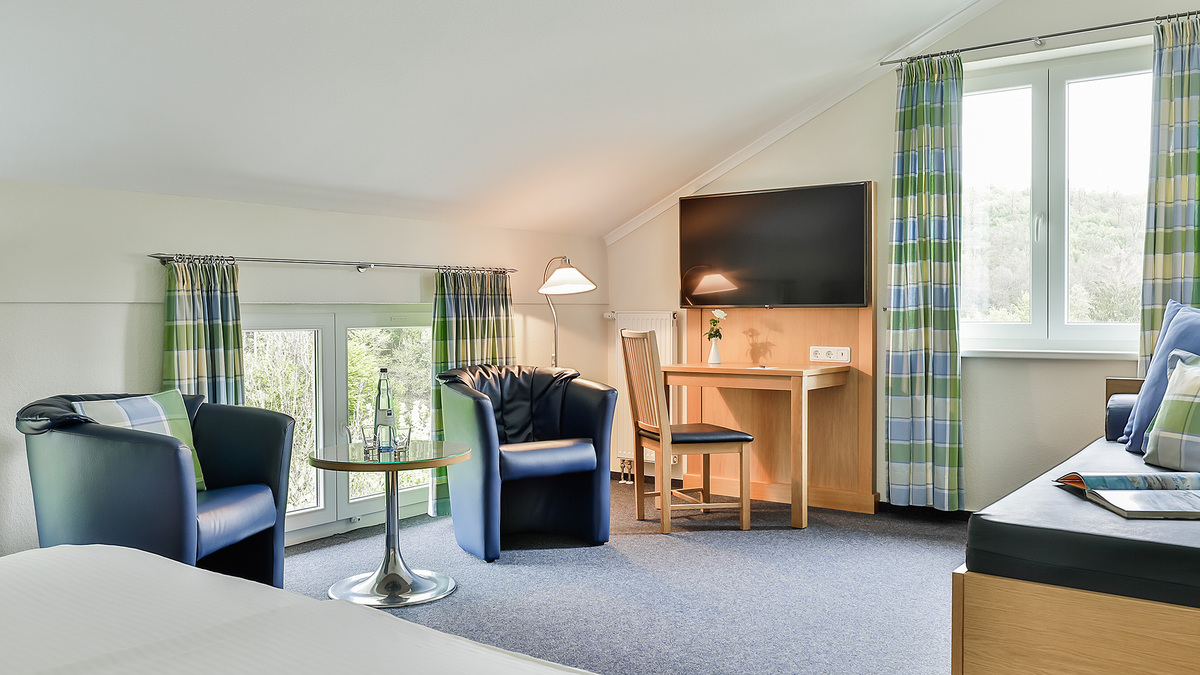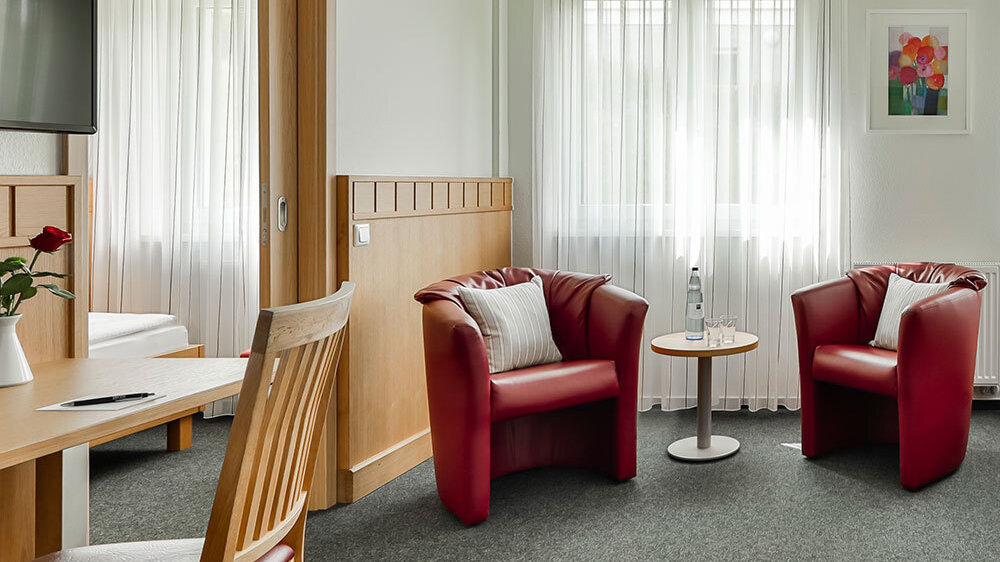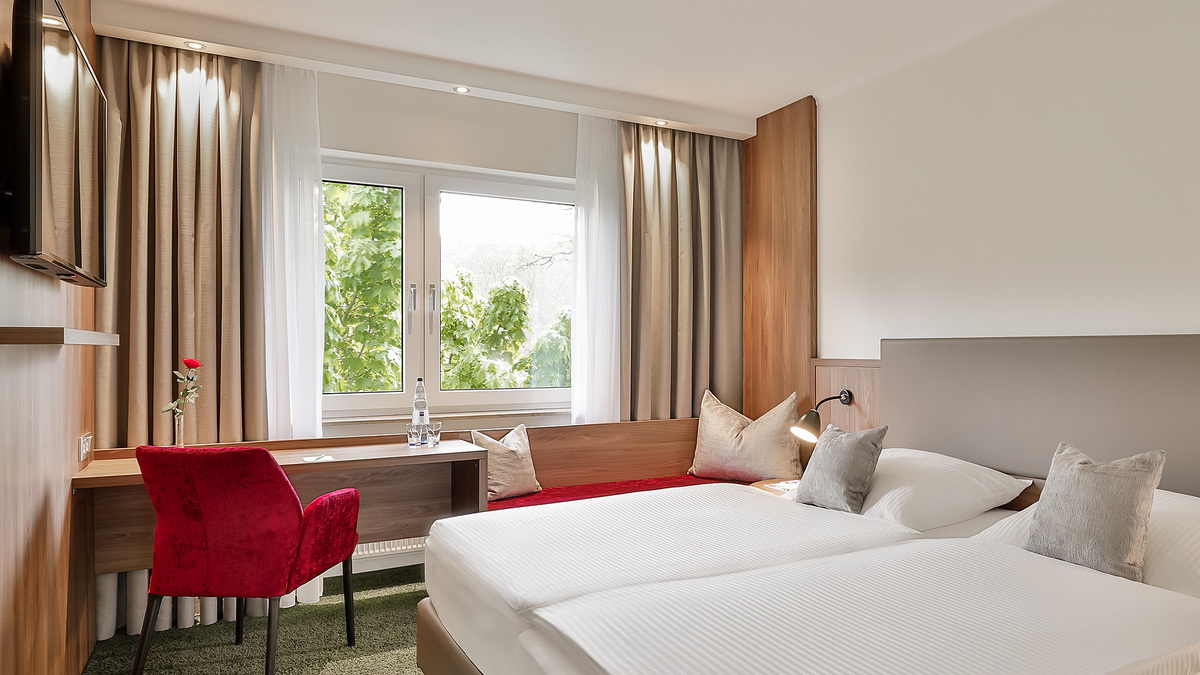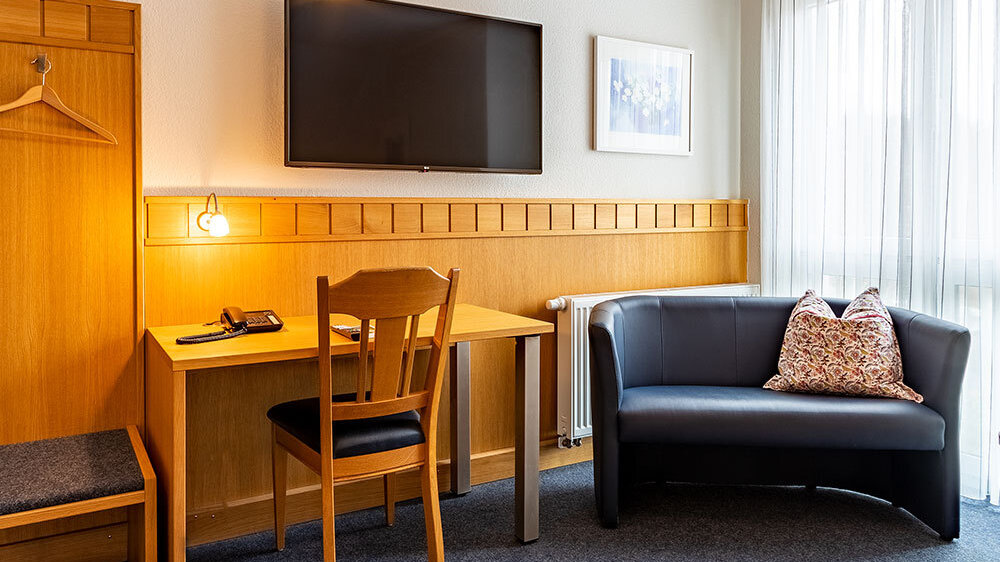 Your restaurants & bars at the Dorint Parkhotel Siegen

At the Dorint Parkhotel Siegen you will not only find a place to feel good. Our restaurant with its large garden terrace also welcomes you with culinary arts from the kitchen.

Where kitchen art and table culture combine in a traditionally grown ambience, you can enjoy hospitality with all your senses. A warm atmosphere, hospitality and flexibility await you in our cozy restaurant.

We will also be happy to arrange your private celebration here on special occasions and ensure unforgettable moments.

Let our menu inspire you.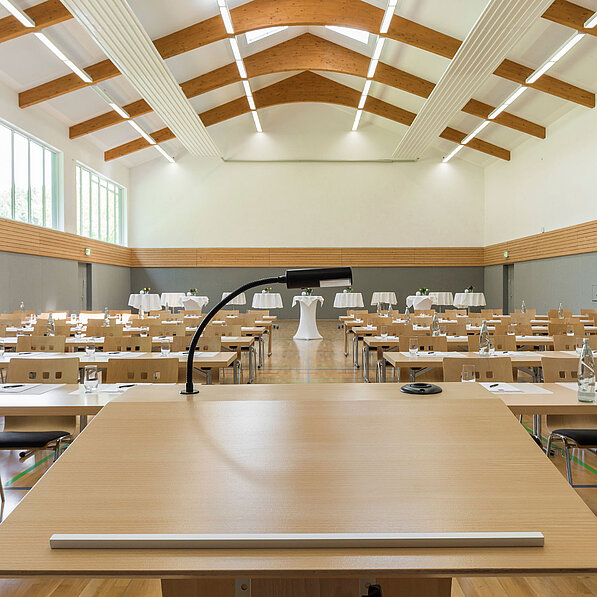 A special place with many possibilities
Hardly any other place offers so many different possibilities to realize your company event, conference, seminar, private celebration & Co. 14 rooms from 24 to 400 m² - distributed over several buildings, with our own festival hall, large foyer, multi-purpose hall, festival hall with stage as well as an unconsecrated chapel with a very special flair, make our offer so special. The total package is topped with our spacious park on the edge of a wooded area, which thus provides peace, relaxation and plenty of room for development.
You can find more information in our Factsheet.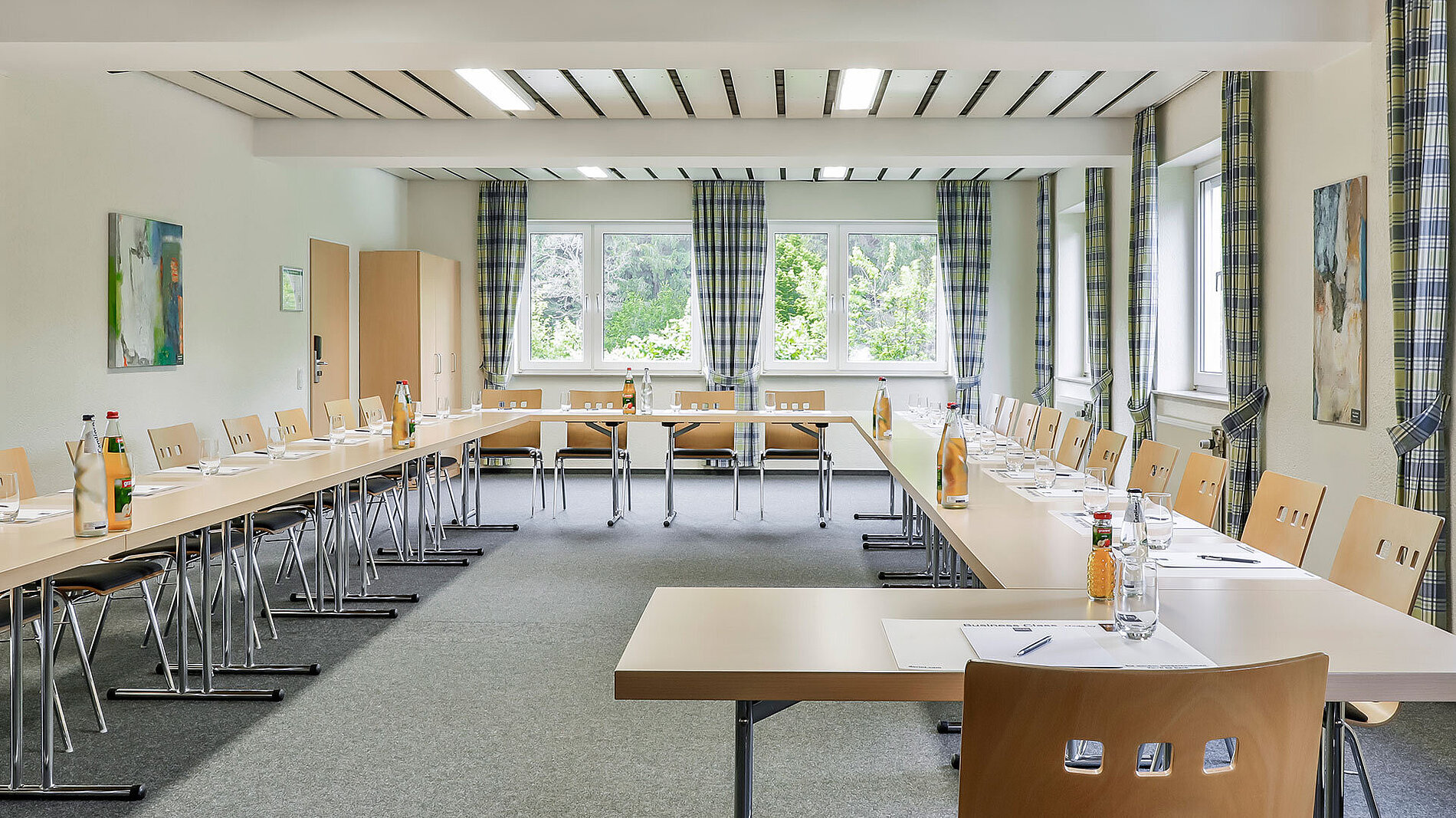 Ruhig gelegener, ca. 84 m² großer Tagungsraum im Souterrain des Haupthauses. Ideal geeignet für kleinere Gruppen mit U-Bestuhlung. Ausgestattet mit einer Leinwand.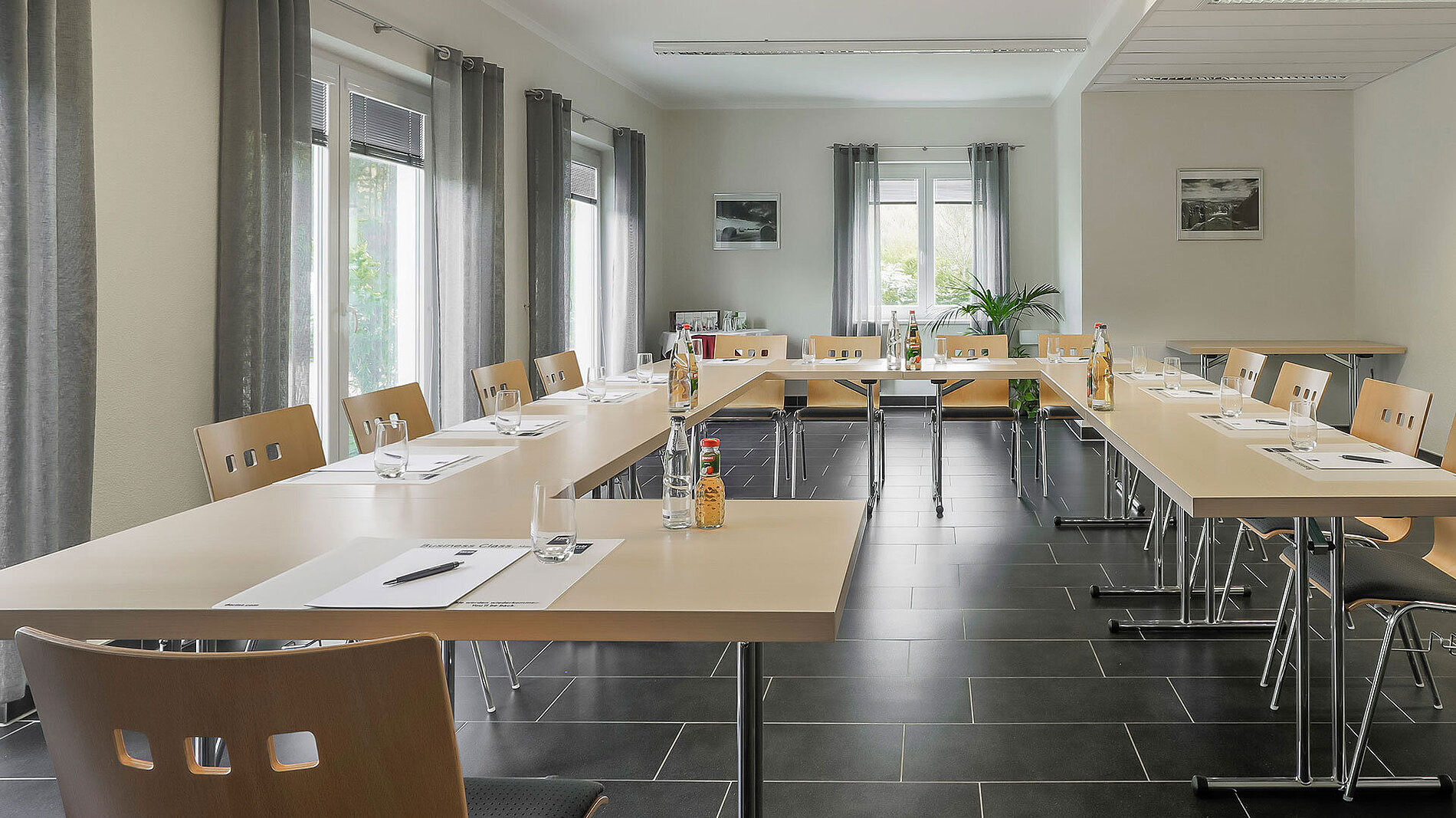 Der knapp 54 m² große Raum Sohlbach befindet sich im Erdgeschoss des Nebengebäudes "Haus Kreuztal". Besonderheit des Raumes ist der Zugang zu einer kleinen Terrasse.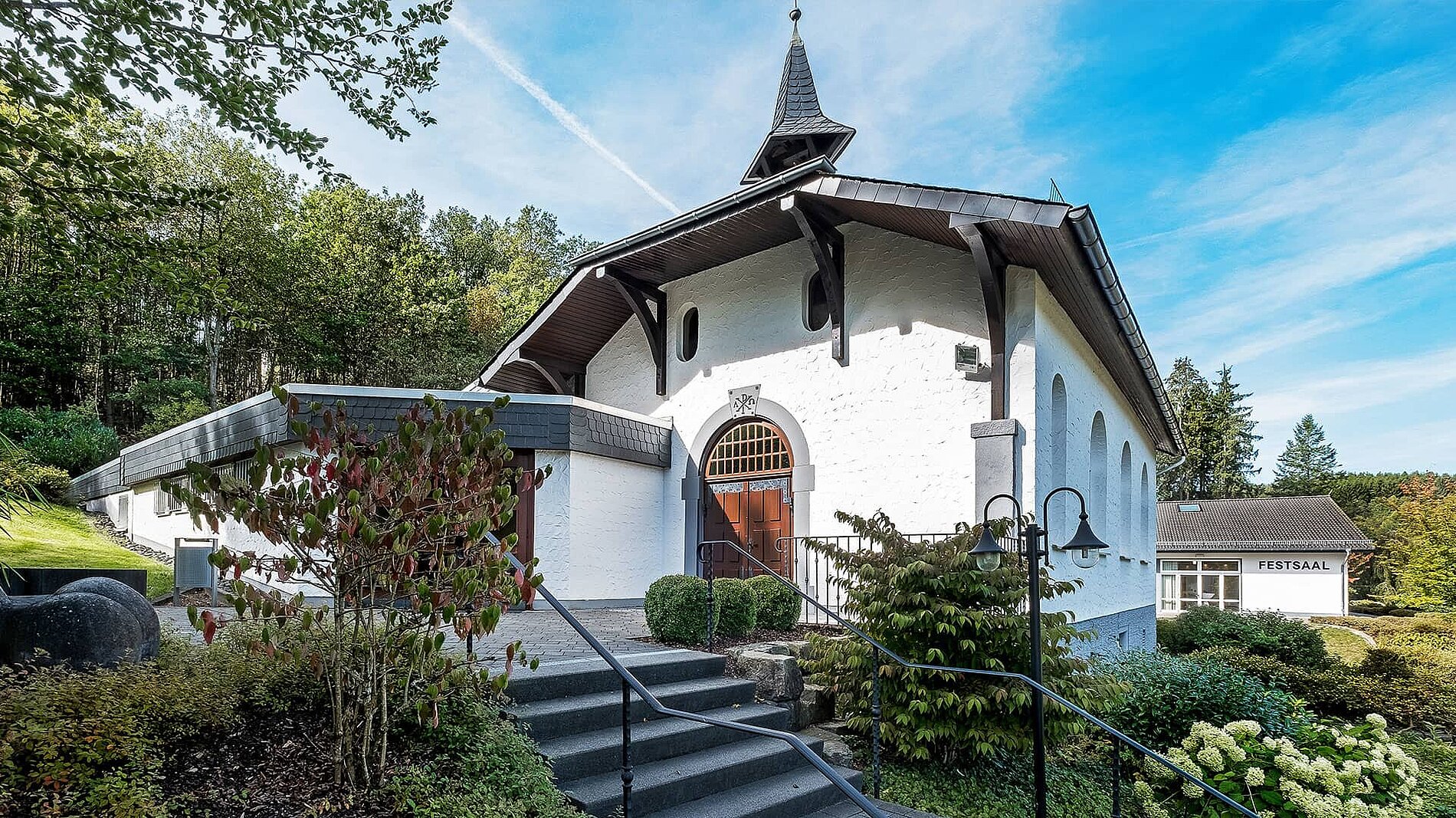 Aufgrund der Tatsache, dass unsere kleine Kapelle ungeweiht ist, können hier Veranstaltungen aller Art stattfinden. Ideal als exklusiver Veranstaltungsort mit drei voneinander trennbaren Räumen.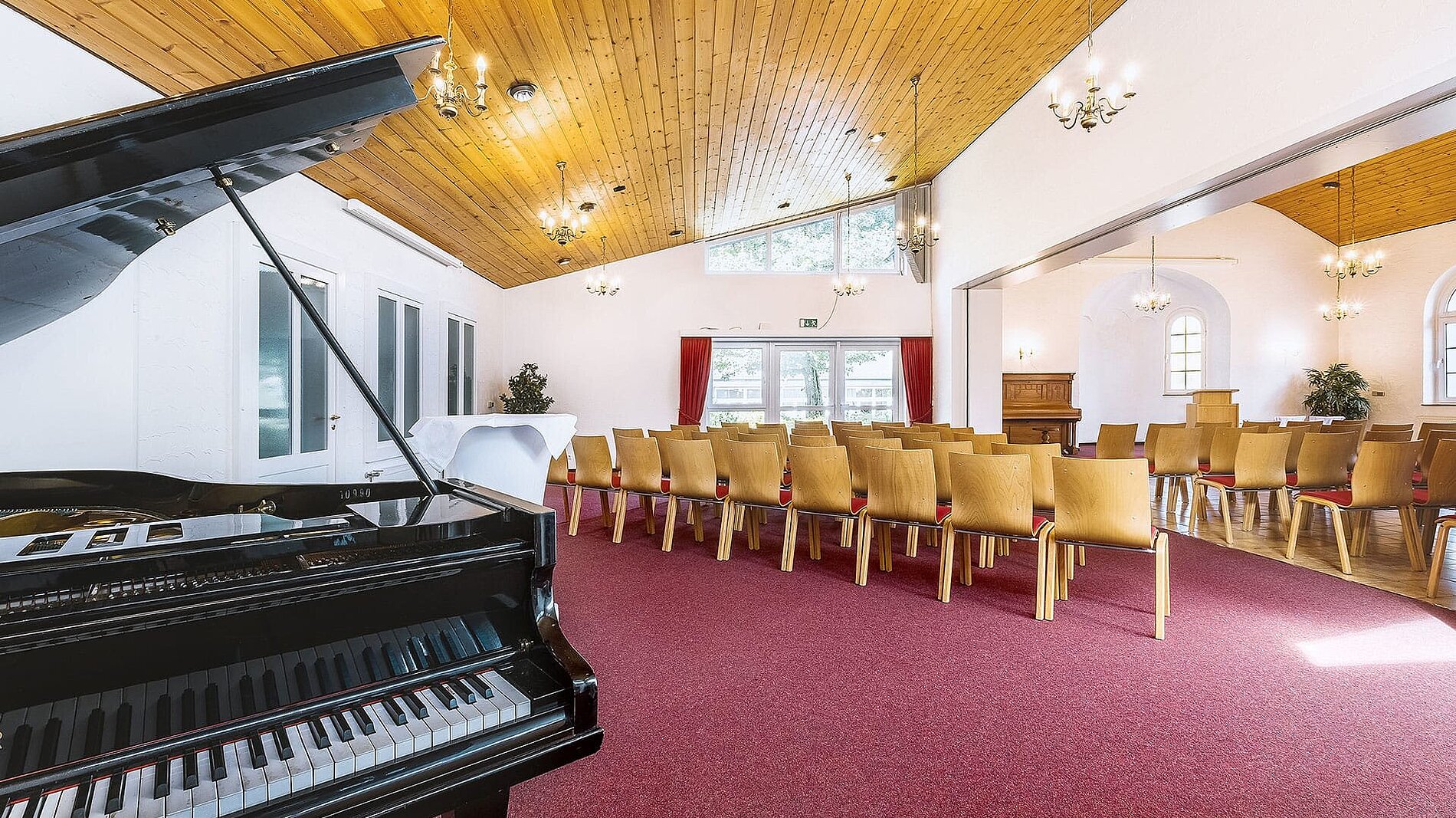 In der Kombination (ca. 164 m²) bieten diese beiden Räumlichkeiten in der Kapelle ein ganz besonderes Flair für Hochzeiten, Feste, Lesung oder auch Ihre Tagung.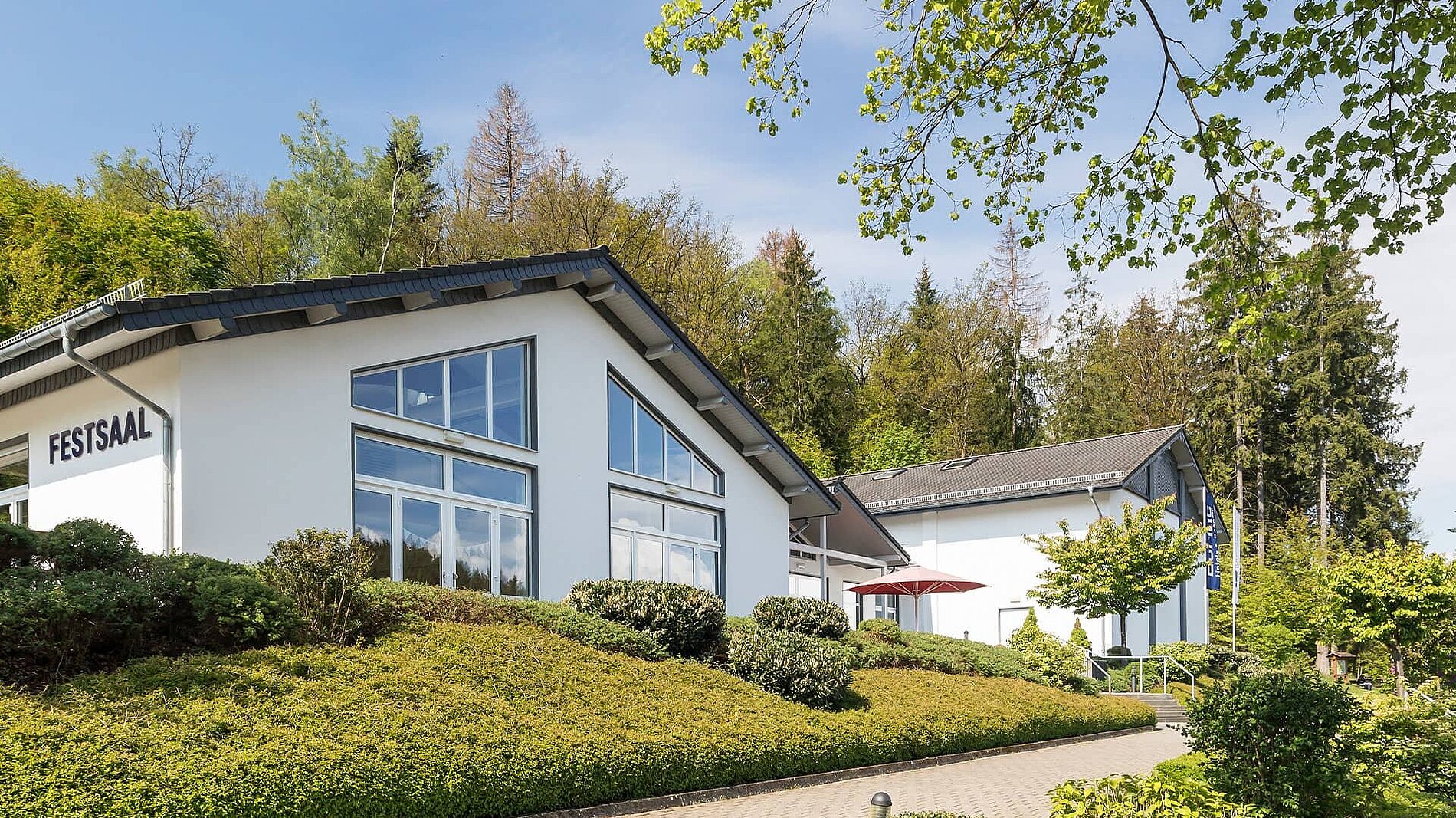 Zur Festhalle gehört ein 300 m² großer Festsaal mit Bühne, eine 400 m² große Mehrzweckhalle sowie ein großzügiges Foyer. Sie liegt am Rande des Parkareals und bietet somit Privatsphäre für Ihre Veranstaltung.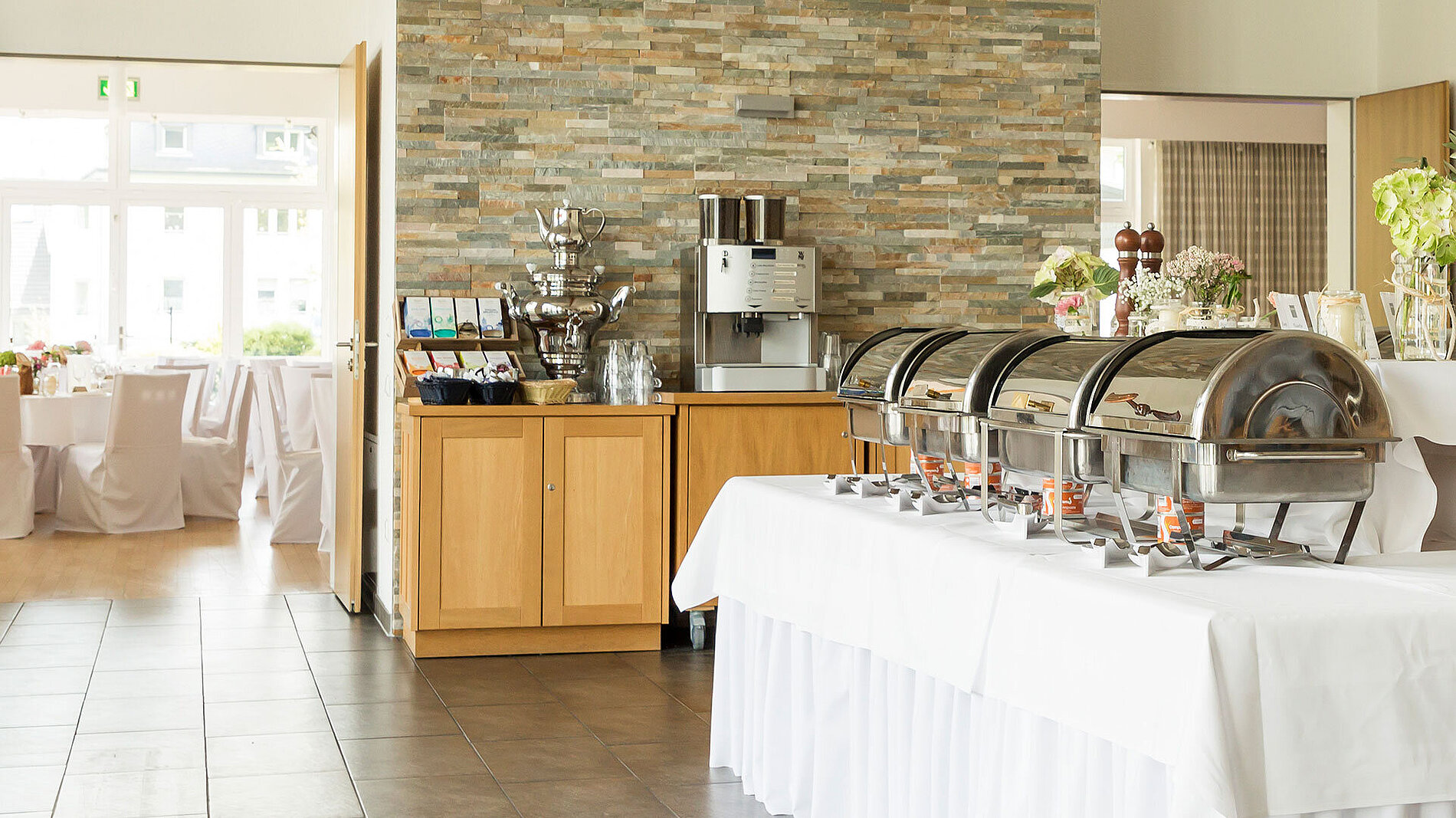 Zu unserer Festhalle gehört ebenfalls ein großzügiges Foyer, über welches die Mehrzweckhalle sowie der Festsaal zu erreichen sind. Ideal für Empfänge oder Buffets.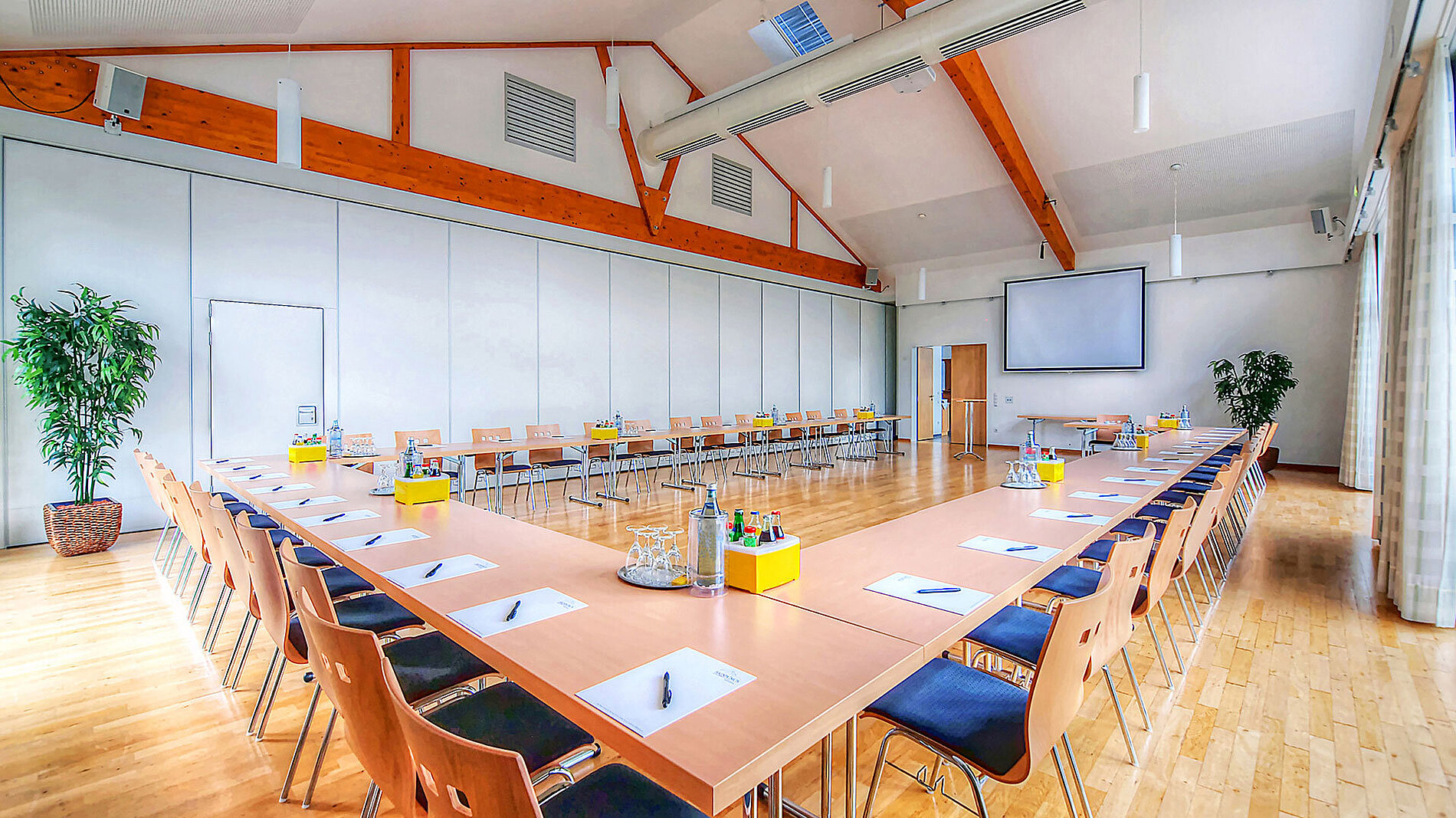 Über eine variable Trennwand lässt sich der große Festsaal in der Festhalle in einen "kleinen" und "mittleren" Saal verwandeln. Der kleine Saal liegt zur Parkseite und bietet dank der Panoramafenster viel Licht.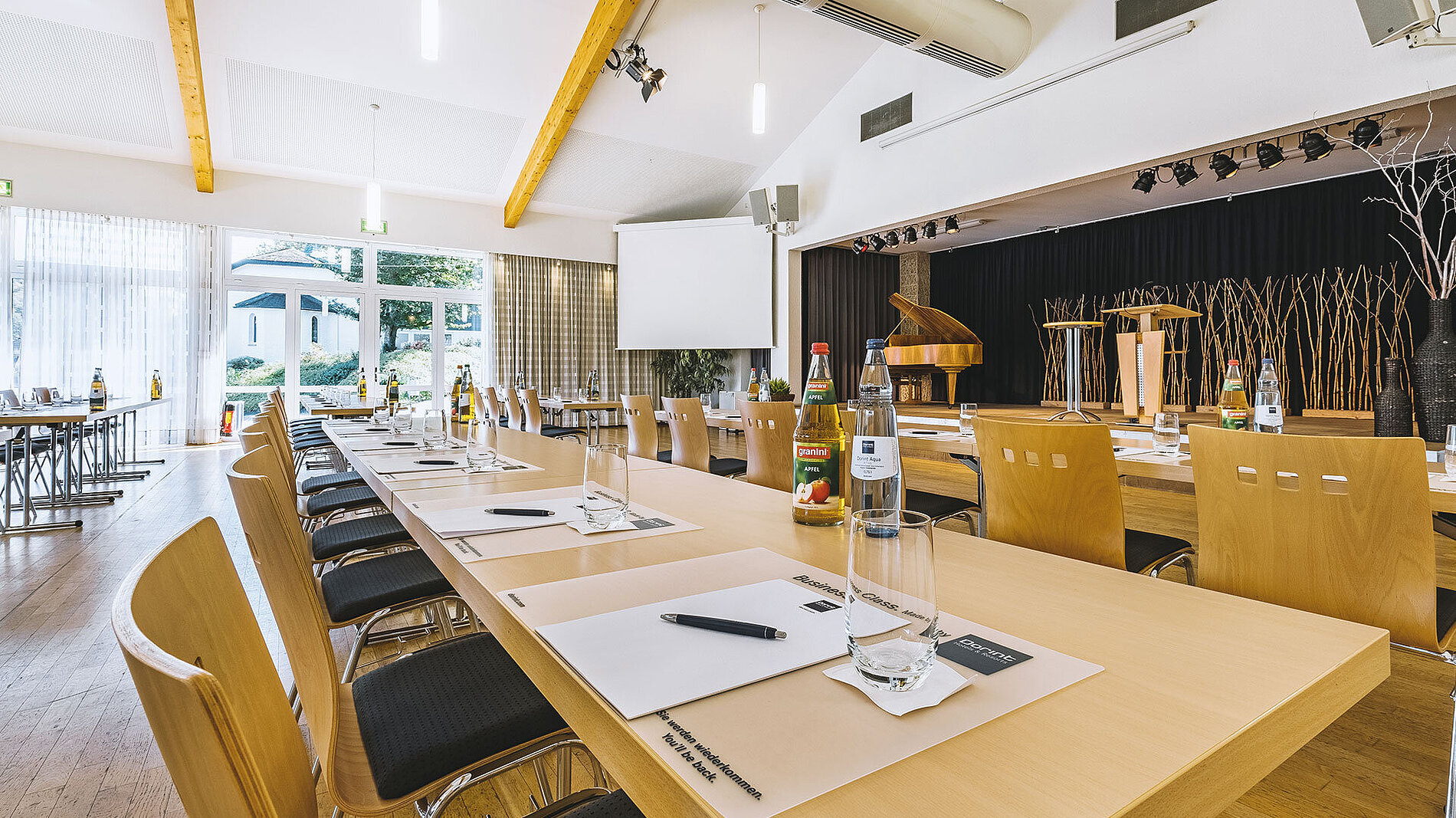 Im Bereich des "mittleren" Saals befindet sich die große Bühne. Dieser Bereich bietet hervorragende Gegebenheiten für Vorträge.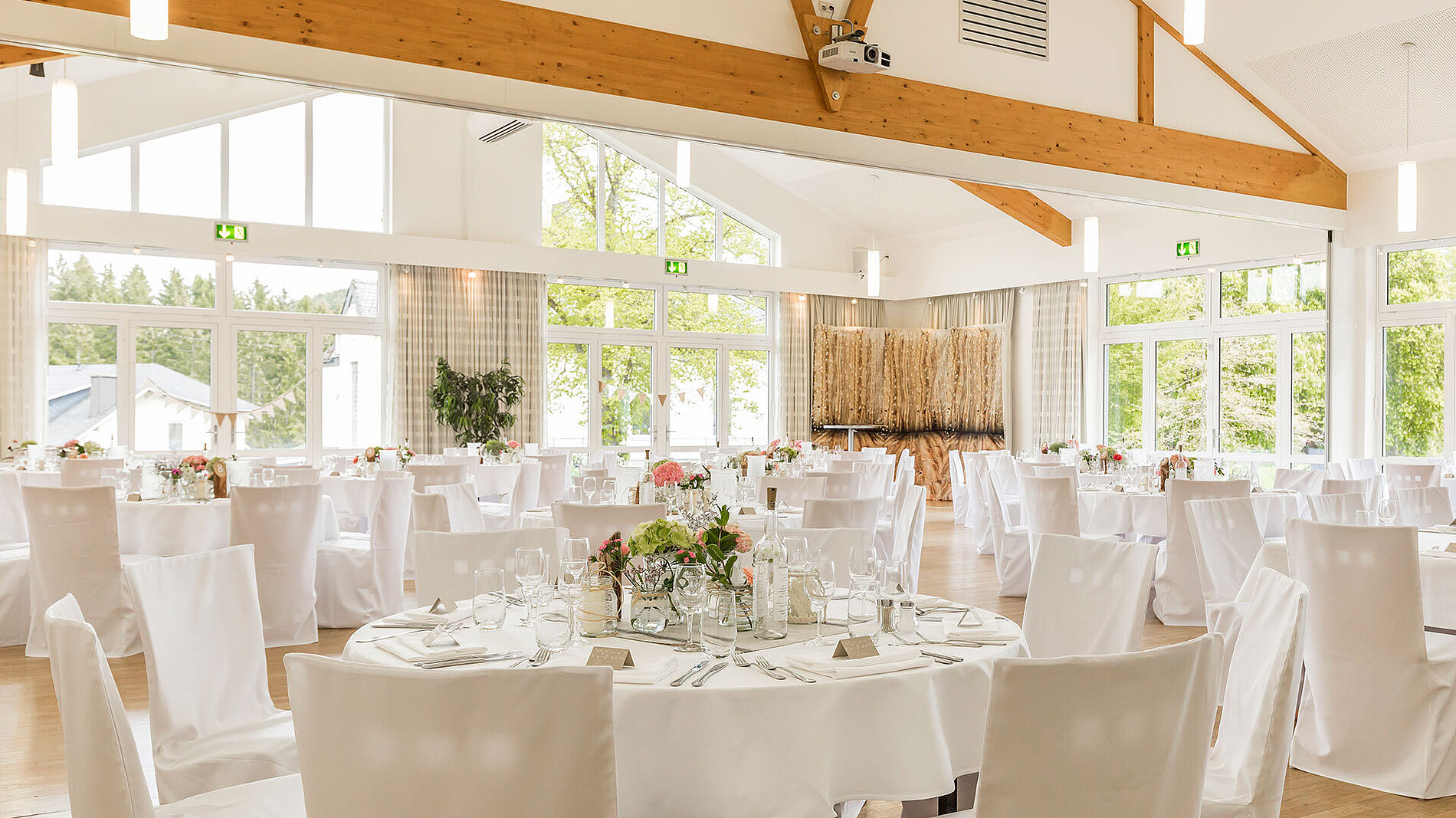 300 m² wie gemacht für ein festliches Event wie Hochzeiten - aber auch genauso gut geeignet für große Firmenveranstaltungen z.B. mit Kinobestuhlung (max. 300 Pax).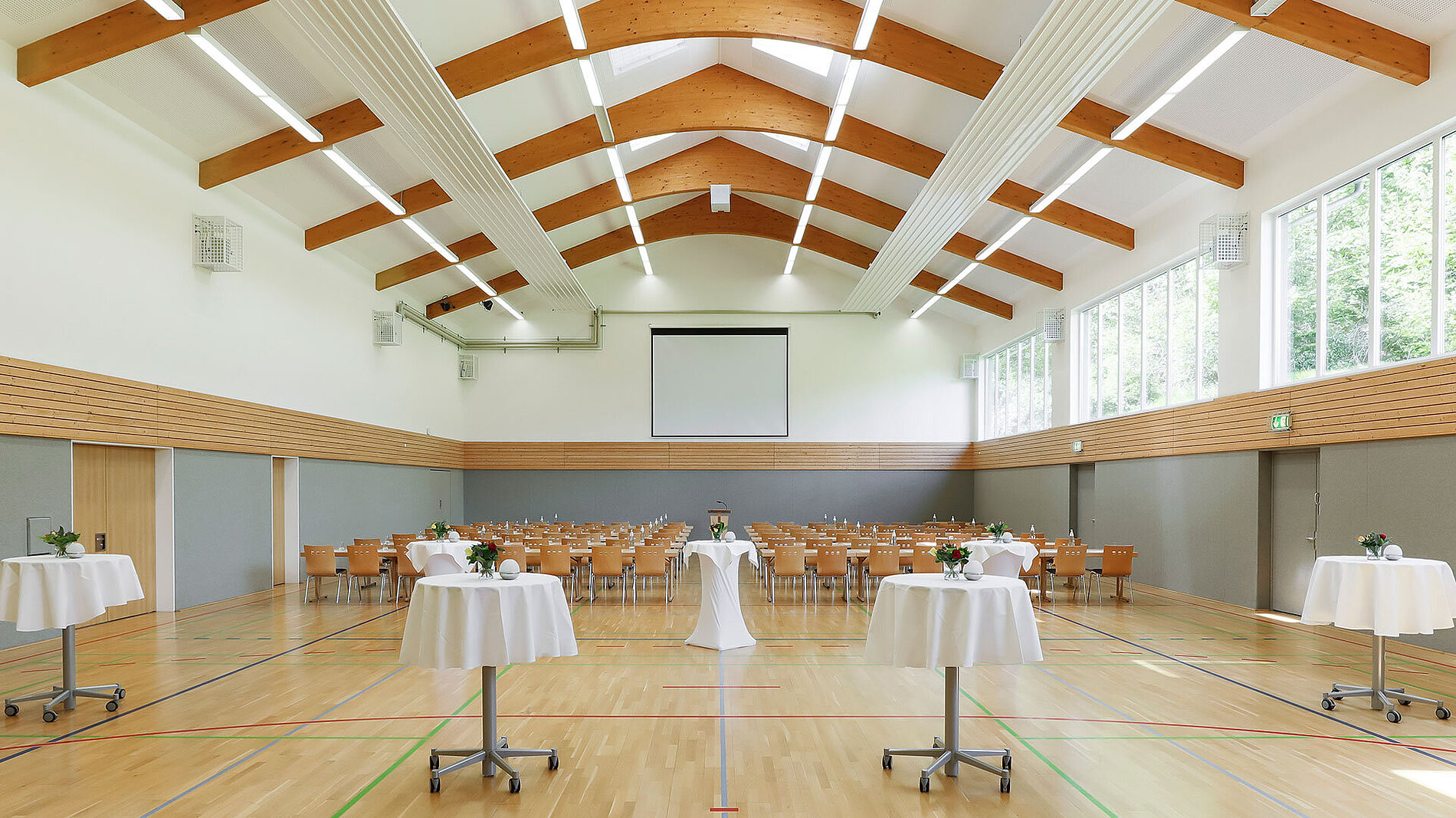 Egal ob sportliches Ereignis, Vereinstraining oder geradliniges Businessmeeting – unsere 400 m² große Mehrzweckhalle ist extrem wandelbar und bietet garantiert eine einmalige Atmosphäre.
Wellness with Dorint

In the face of ever-increasing challenges in work and private life, we have created a small recreational space. In our wellness area with saunas, steam bath, relaxation room and a view of nature you will find relaxation and balance.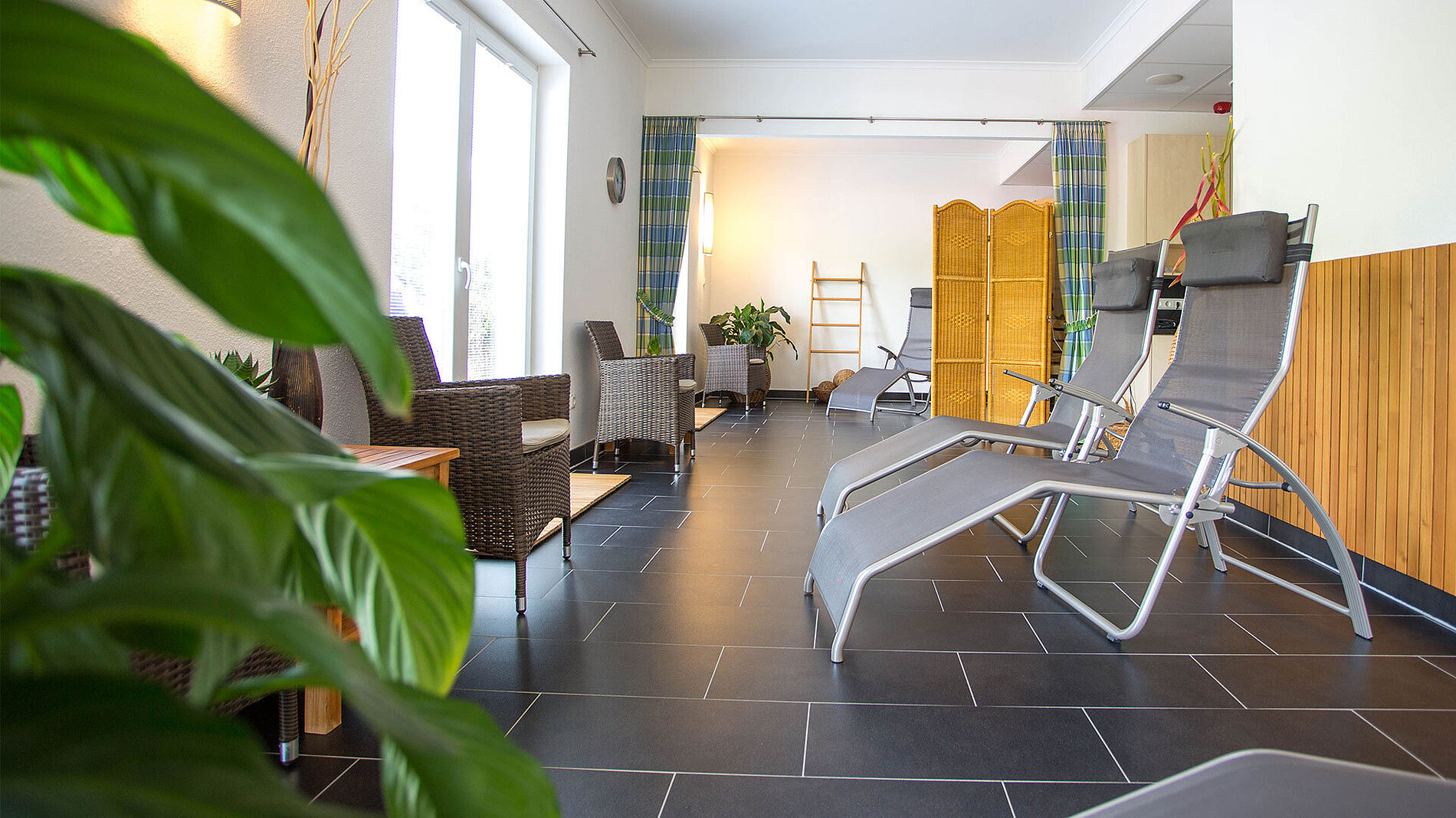 Für Hotelgäste ist die Nutzung des Saunabereiches inklusive. Bademäntel sowie Schlüssel für die Nutzung der vorhandenen Spinde erhalten Sie kostenfrei (Pfand 20 €) an der Rezeption. Saunahandtücher liegen in den Spinten bereit.
Öffnungszeiten:
Montag bis Donnerstag: 16:00 - 22:00 Uhr
Freitag und Samstag: 11:00 bis 22:00 Uhr
Sonntag: 16:00 bis 22:00 Uhr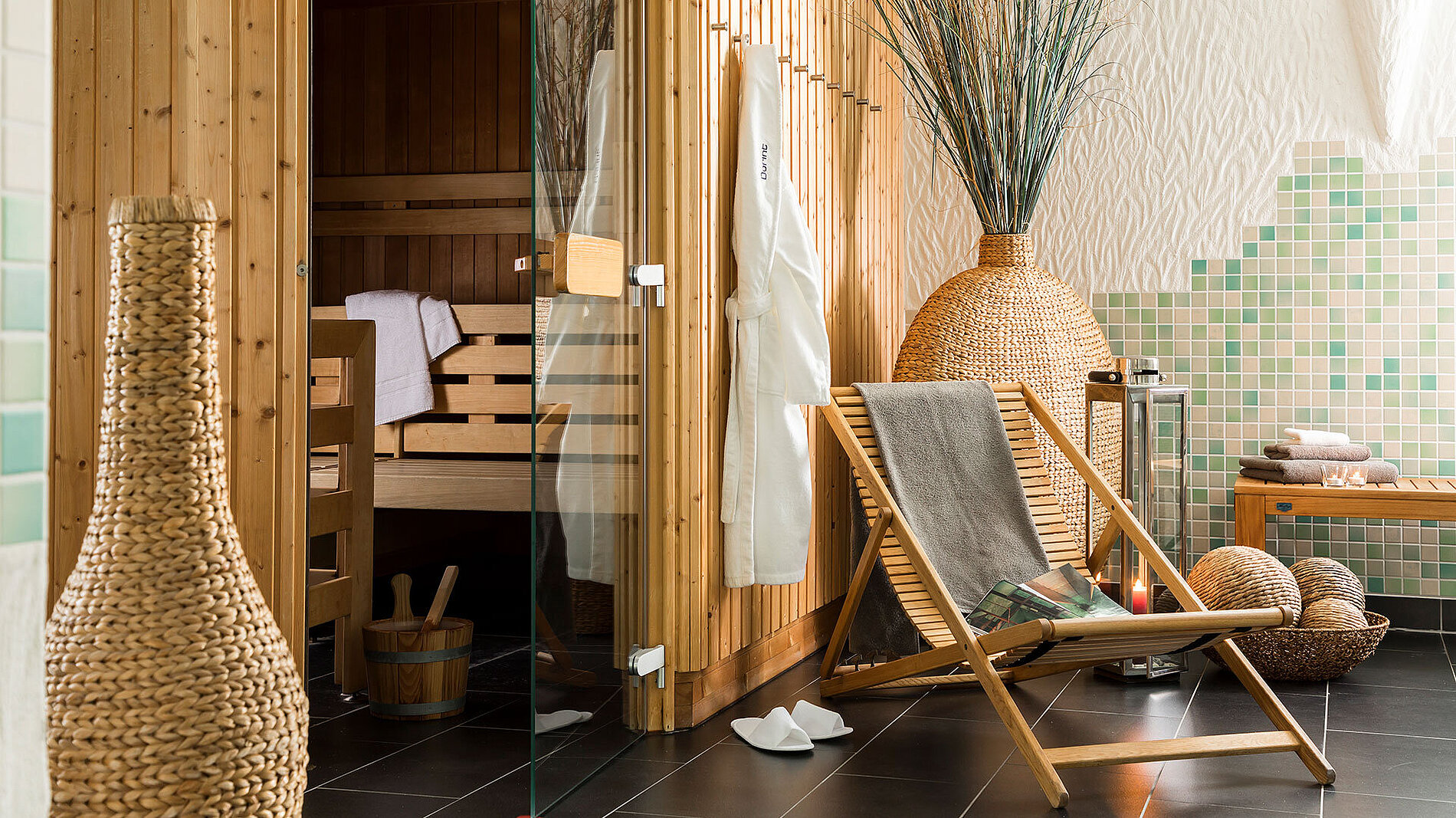 Unser Sauna- und Fitnessbereich steht auch externen Gästen für eine erholsame Auszeit zur Verfügung.
• Kosten: 13,50 € pro Person/Tag
• Handtücher und Bademäntel können an der Rezeption gegen eine Gebühr von jeweils 2,00 € zzgl. 20 € Pfand ausgeliehen werden
Campaign: vorFREUDE

...where winter dreams come true

What makes you cheer with joy? The thought of your next winter vacation? Then it's time to make your winter dreams come true.
Magical moments for two, with family or friends await you in more than 60 destinations.
Happy Siegen

2 or 3 nights

Daily rich breakfast

2 x dinner (buffet or 3-course menu at the chef's choice)

1 bottle of mineral water in the room

Use of the sauna and fitness area

Siegerland on 4 paws

2 nights

1 dog stays in the room free of charge

Daily rich breakfast

1 x 3-course menu or buffet (chef's choice)

1 bottle of mineral water in the room

Use of the sauna and fitness area
Real people, real experience, real emotion.
Dorint makes dreams come true.
We have the right activity for every explorer and bon vivant: simply browse through our offers and decide on your favourite experience. With us you can discover holidays in a whole new way: Make a wish!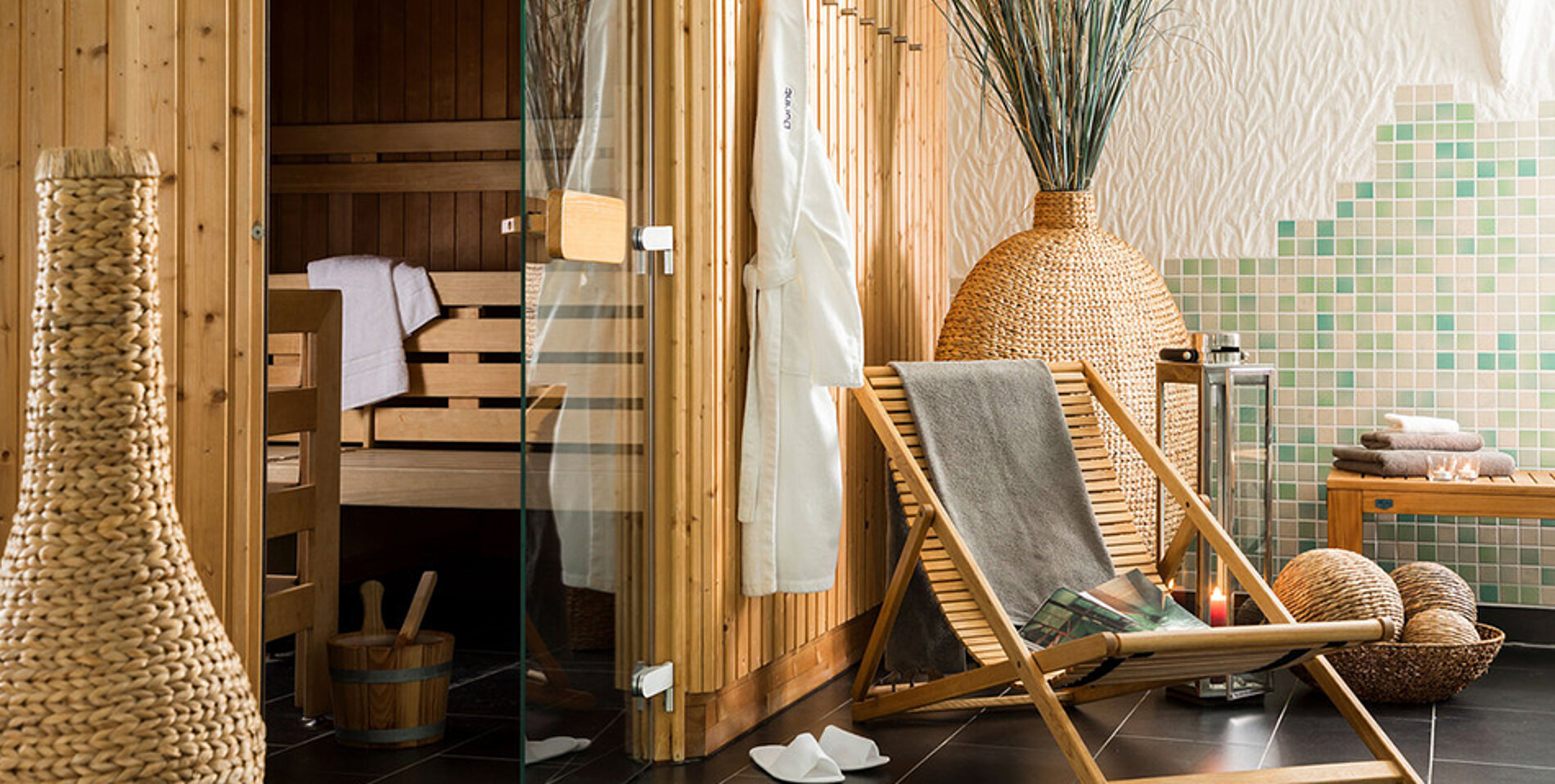 After a long day, a touch of relaxation awaits in our sauna area. Recharge your batteries with saunas, a steam bath, relaxation room and the idyllic view from our hotel.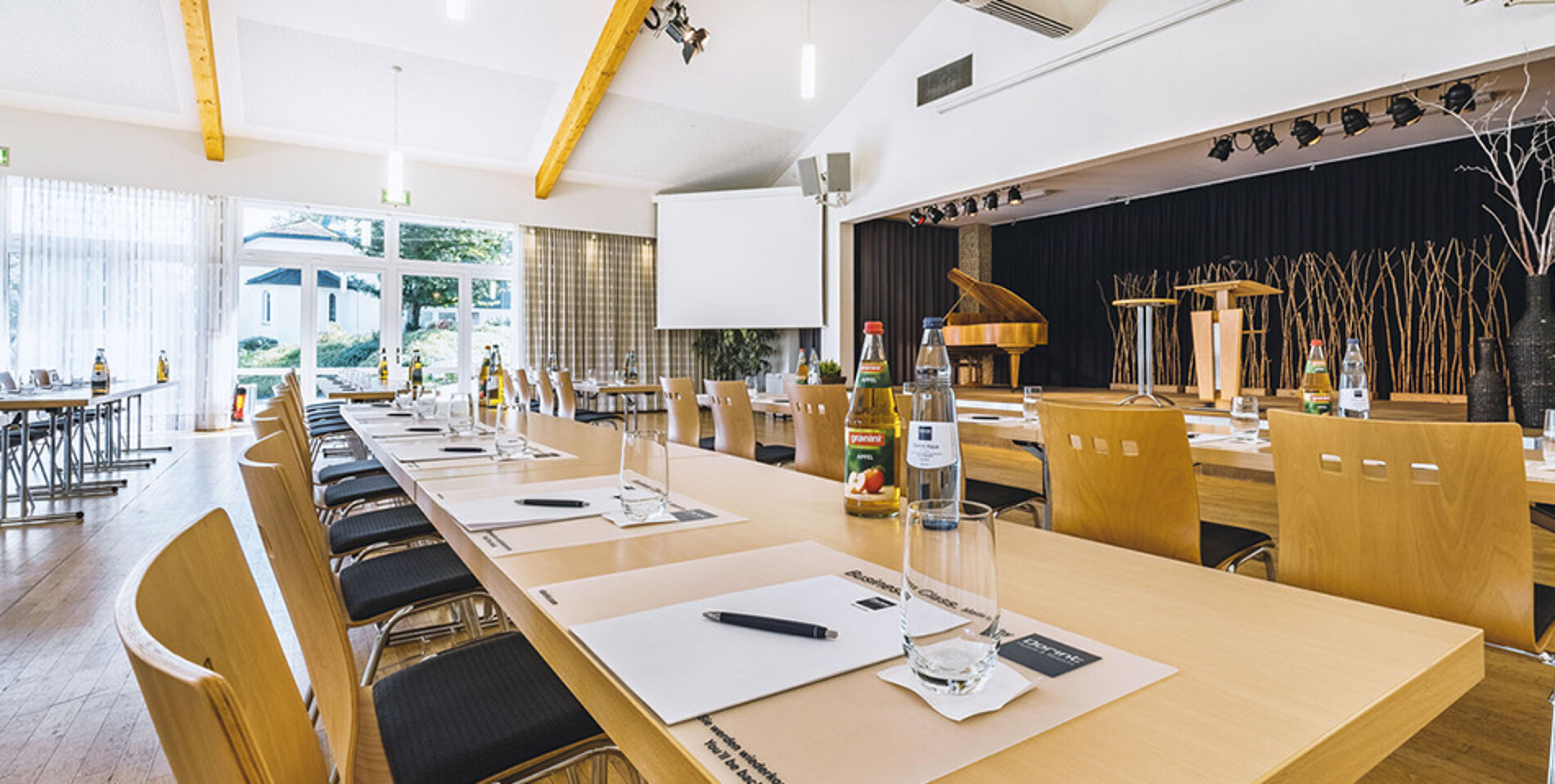 Unique event rooms with festival hall & chapel

The conference and event possibilities are almost unlimited at the Dorint Parkhotel Siegen. From the festival hall with ballroom and multi-purpose hall, to an (unconsecrated) chapel, to other smaller rooms, you will find ideal conditions for your event with up to 400 people.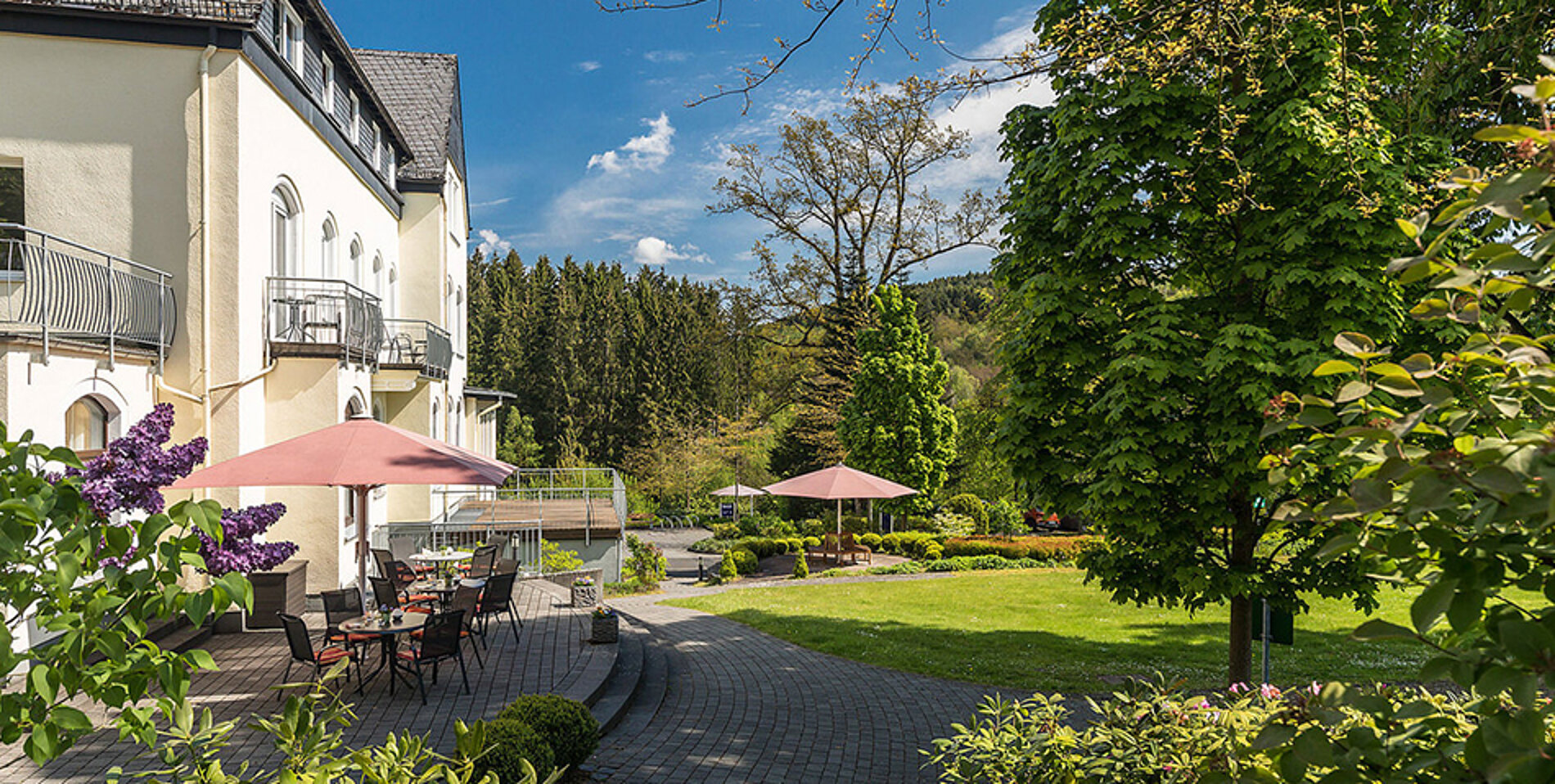 A feel-good place in the green

The hotel is located in a spacious park with an adjacent forest area where you can set out on numerous hiking routes. Experience the wonderful nature of the Langenbach Valley on the edge of the Rothaar Mountains.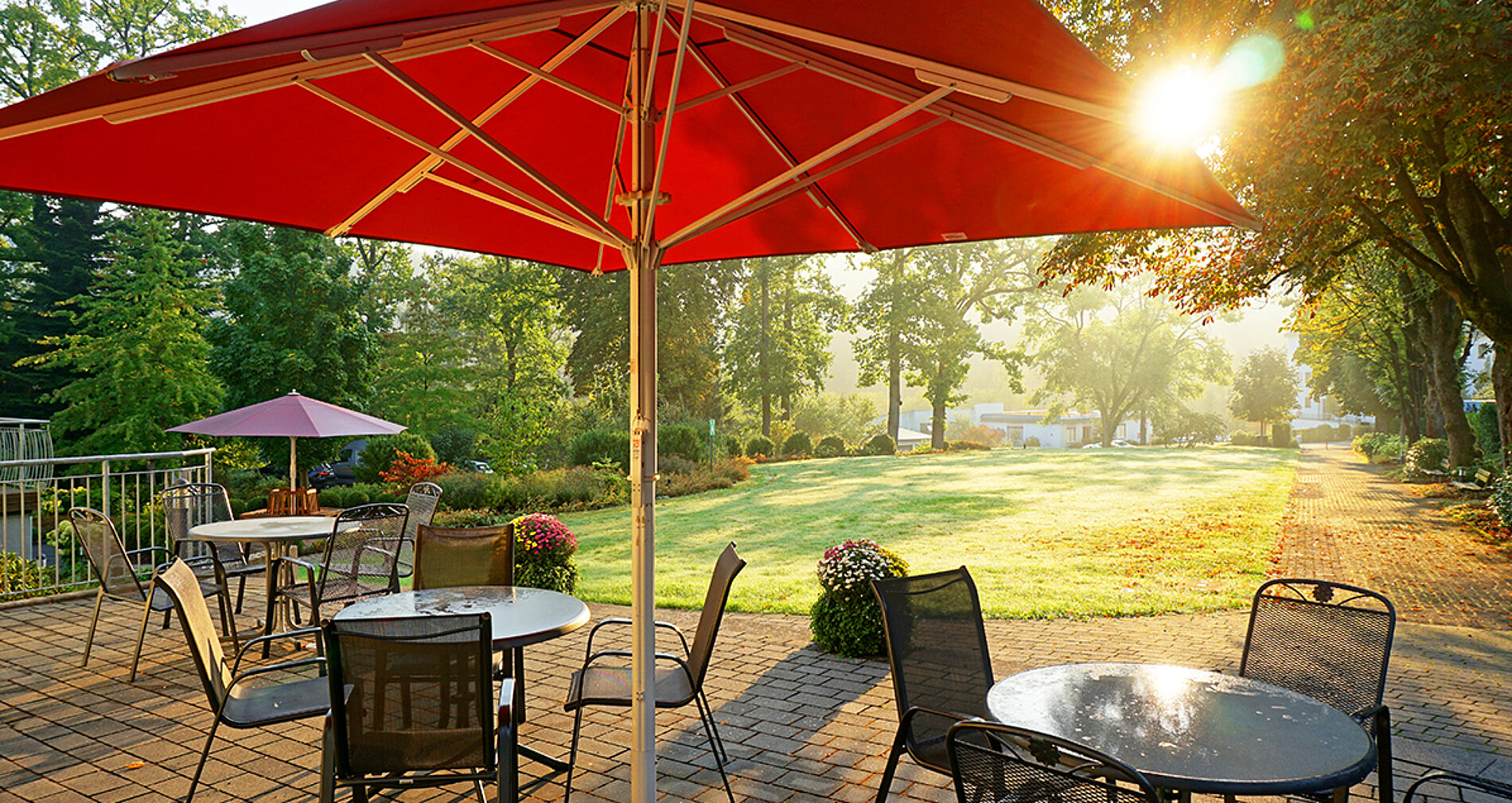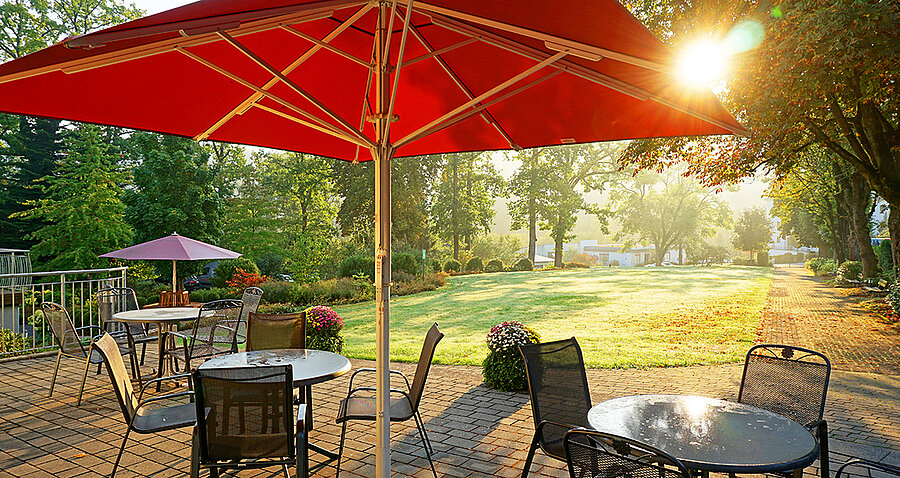 The following hotels are independently managed by franchisees of Dorint GmbH (these franchisees then as hotel operators), in their own name and for their own account by the respective operating company:

Dorint Parkhotel Siegen
Halbersbacher Privathotels GmbH, registered office: Bad Doberan
Mollistraße 10 - 18209 Bad Doberan
Local court Rostock: HRB 12283
Managing Director: Arne Mundt
VAT ID No.: DE283313489